Energy use is way down - but wind surges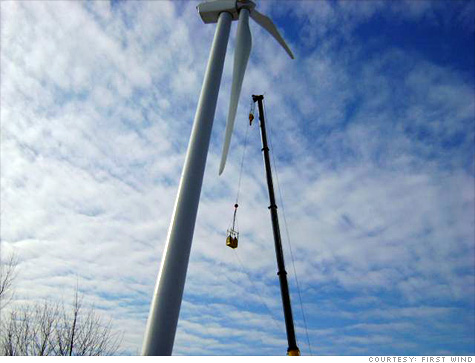 NEW YORK (CNNMoney.com) -- Energy use in the United States fell nearly 5% last year, marking the largest annual drop on record, according to an analysis of federal data by the Lawrence Livermore National Laboratory.
Total U.S. energy use fell in 2009 to an estimated 94.6 quadrillion British Thermal Units, down from 99.2 quadrillion BTUs in 2008. To put that in perspective, the average room air conditioner uses about 10,000 BTUs.
This was the largest year-over-year drop since the government began keeping track in 1949, said A.J. Simon, an energy analyst at LLNL.
"Energy use tends to follow the level of economic activity, and that level declined last year," he said. "Simply said, people are doing less stuff. Therefore, they're burning less fuel."
The last time energy use was this low was 1996, when it totaled 94.2 quadrillion BUTs.
Despite the drop in overall energy use, Simon said the study also showed a substantial increase in alternative sources of energy, including gains in solar, hydro and wind power.
"The increase in renewables is a really good story, especially in the wind arena," said Simon. "It's a result of very good incentives and technological advancements."
The use of wind power rose "dramatically" to 0.7 quadrillion BTUs in 2009 from 0.51 quadrillion BTUs the year before, according to LLNL which compiles the data for the U.S. Department of Energy.
Under the 2009 economic recovery act, the Department of Energy has offered generous tax breaks and grants to help fund the development of wind energy. President Obama has set a target of doubling the country's renewable energy capacity by 2012.
The growth of wind power, which is used mostly to generate electricity, helped reduce coal consumption. In addition, lower demand for electricity in general and a shift to natural gas also helped offset coal use.
Energy consumption in the U.S. declined in the residential, commercial, industrial and transportation sectors last year. But that wasn't just because of the economic slowdown. LLNH said it was also due to the fact that Americans are adopting more energy efficient cars and appliances.
Burning coal and other fossil fuels for energy creates carbon emissions, which have been blamed for causing global warming. While it remains to be seen how the trends in energy use will impact U.S. carbon output, Simon said he expects data that's due out later this year to show that carbon emissions fell in 2009.
"The reduction in the use of natural gas, coal and petroleum is commensurate with a reduction in carbon emissions," he said.