Jobless claims slide more than expected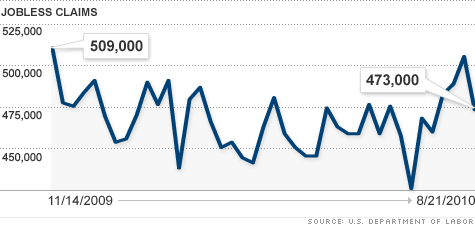 NEW YORK (CNNMoney.com) -- The number of first-time filers for unemployment insurance fell more than expected last week, according to a weekly government report released Thursday.
There were 473,000 initial jobless claims filed in the week ended Aug. 21, down 31,000 from an upwardly revised 504,000 the previous week, according to the Labor Department's weekly report.
Economists surveyed by Briefing.com were expecting new claims to fall to 485,000.
Claims had been stuck in the mid- to upper-400,000 range for about nine months, but spiked above 500,000 for the first time since November in last week's report.
"The latest numbers provide a sigh of relief to stressed financial markets and at least uphold the possibility that the economy can avoid a double-dip recession," said economist John Lonski, of Moody's Economy.com. "But we still need to establish a declining trend for jobless claims so we can feel more confident in the economic recovery."
The 4-week moving average of initial claims -- a number that tries to smooth out week-to-week volatility -- was 486,750, up 3,250 from the previous week.
Lonski said that figure needs to break below 450,000 and set new lows in order to improve the outlook for the job market, which he is optimistic about.
"Given that business sales rebounded in July after two months of decreases, companies may hold on to more employees, if not hire more," he said. "So it's conceivable that that latest decline in jobless claims will be the first in a series of such declines."
Continuing claims: The government said 4.46 million people continued to file unemployment claims for their second week or more, during the week ended Aug. 14, the most recent data available. That's down 62,000 from an upwardly revised 4.52 million the week before.
Continuing claims reflect people who file each week after their initial claim until the end of their standard benefits, which usually last 26 weeks. The figures do not include those who have moved to state or federal extensions, or people who have exhausted their benefits but are still out of a job.
The 4-week moving average for ongoing claims fell by 28,000 to 4.51 million.
State-by-state: Jobless claims in eight states declined by more than 1,000 in the week ended Aug. 15, which is the most recent state data available. Claims in California dropped the most, by 5,275. The state attributed the drop to fewer layoffs in the service and manufacturing industries.
Claims jumped by more than 1,000 in Wisconsin and Puerto Rico.