Unemployment rates rise in 14 states
NEW YORK (CNNMoney.com) -- State unemployment took a negative turn in July, with more states posting rising jobless rates than in the previous month.
A total of 18 states and the District of Columbia posted unemployment rate decreases in July, according to the Labor Department's monthly report on state unemployment. Jobless rates rose in 14 states and were unchanged in 18 states.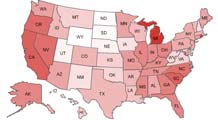 The report was slightly gloomier than in June, when unemployment rates eased in more than half of all U.S. states for a third straight month and only five states reported jobless rate increases.
But at the same time, fewer states reported jobless rates of 10% or higher in July. While 17 states and D.C. reported rates at or above this level in June, only 11 states posted rates of 10% or higher in July.
Nevada posted a record high rate of 14.3%, making it the state with the highest level of unemployment for a third month in a row, after it took the distinction from Michigan in May.
But Michigan wasn't far behind, posting a 13.1% rate in July, followed by California, which posted a 12.3% rate.
North Dakota remained the state with the lowest unemployment, posting a 3.6% rate, followed by South Dakota and Nebraska, with rates of 4.4% and 4.7%, respectively.
Compared with the same period a year ago, the employment picture was a bit more encouraging, with more than half of the nation's states reporting lower unemployment. Twenty-seven states and D.C. posted rate declines from the previous year, while 20 states reported increases and three states had no change.
In a separate report earlier this month, the Labor Department said the economy continued to lose jobs in July, with employers cutting payrolls by 131,000. Meanwhile, the national unemployment rate remained unchanged at 9.5%.
The state unemployment report issued Friday showed that 25 states reported jobless rates significantly lower than the national unemployment rate, while seven states had higher rates.