3PAR bidding war: Are Dell and HP crazy?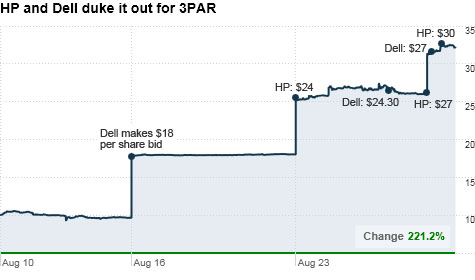 NEW YORK (CNNMoney.com) -- Hewlett-Packard and Dell's intense bidding war for the little-known 3PAR is starting to look a little nuts.
HP's latest offer of $30 a share for the storage company represents a 211% premium over the value of 3PAR's stock before the bidding war between Dell and HP began. Saturday, 3PAR's board said it had determined that HP's unsolicited bid is the "superior" offer and planned to terminate its merger agreement with Dell.
3PAR (PAR), which has never turned an annual profit in its three years as a public company, would need to add over $40 million in free cash flow to make the deal profitable, according to Ken Hackel, president of CreditTrends.com. But that's unlikely to happen for at least three years.
So why are Dell (DELL, Fortune 500) and HP (HPQ, Fortune 500) so adamant that they win this obscure, unprofitable company?
The answer can be found in a high-growth technology business called cloud computing.
Cloud computing enables companies to store and access their information in off-site data centers that are managed by another company. The process is cheaper and more efficient. Businesses are quickly catching on to the trend.
Corporate spending on cloud computing is expected to grow 27% each year for the next four years, reaching $55.5 billion in 2014, according to IDC. That's up from just $16.5 billion last year.
Obviously, Dell and HP want to be part of that rapid growth and offer that service to their clients. Though both companies offer storage solutions, neither makes the high-end products that are specialized for cloud computing.
Currently, HP outsources products from Hitachi Data Systems to customers who want cloud solutions. Dell doesn't offer high-end data storage systems at all.
So if Dell or HP wanted to quickly capitalize on the expected growth in this market, buying a company that is already making cloud storage products is probably a faster and cheaper option.
But the pickings are slim: The only companies that make that kind of hardware are IBM (IBM, Fortune 500), EMC (EMC, Fortune 500), Hitachi Data Systems and 3PAR (PAR).
Given the enormous size of IBM and EMC, and the fact that Hitachi Data Systems is owned by the Japanese conglomerate Hitachi (HIT), tiny 3PAR is really the only alternative.
"This is definitely something that both HP and Dell clearly want," said Aaron Rackers, analyst at Stifel Nicolaus & Co. "3PAR has scarcity value for what they want to bring to the table."
But at what point do HP and Dell have to wonder if they're getting into a very expensive game of 3PAR chicken?
"The bidding for 3PAR is reminiscent of two drunks at a horse auction, whereby the winner is the loser," said Hackel. "3PAR is a value-destroying acquisition because the expected cash return on HP or Dell's invested capital would be below the cost of capital."
Both Dell and HP have billions of dollars of cash on hand -- Dell with $12.4 billion and HP with $14.7 billion -- so both certainly have the financial wherewithal to buy 3PAR at a price that's even higher than its current market value of about $2 billion.
But Hackel noted that both companies are actively buying back their own shares as well, leaving less for future acquisitions.
"They're getting into crazy levels here, and on paper, 3PAR isn't worth what they're bidding," added Michael Holt, an analyst at Morningstar. "There's a point at which the winner's curse will do them in -- even perfect execution will never make that up to their shareholders."
What would Mark Hurd do?
On a conference call with HP executives after HP first announced its bid, Sanford Bernstein analyst Toni Sacconaghi questioned whether ousted HP CEO Mark Hurd would have made the deal at all, given his penchant for efficiency.
Several analysts said they believed HP's determination to win the bidding war is an attempt to show investors that the company has a unified board, and HP is not a rudderless ship in the absence of a CEO.
Still, Holt believes the bidding war is a good and ultimately necessary strategy for both companies. As a new entrant to the market, 3PAR has struggled. But with either Dell or HP's significantly larger base of clients, he said the storage company's value could be significantly boosted.
"When you have a small entity like this with a great, unique technology asset, paired with a marketing machine like Dell or HP, this could become an enormous growth story," Holt said.
Most analysts said HP should ultimately win the battle. But even if it doesn't, Dell will be left with a very expensive acquisition that could hurt it financially, at least in the near term.
"Either way, I think HP wins," said Eric Johnson, director of the Center for Digital Strategies at Dartmouth University's Tuck School of Business. "Dell is on the ropes -- it needs to stay relevant but is slowly drowning. HP should win this one, but if they don't they will make sure that Dell overpays."