Banked billions spark tech takeover shopping spree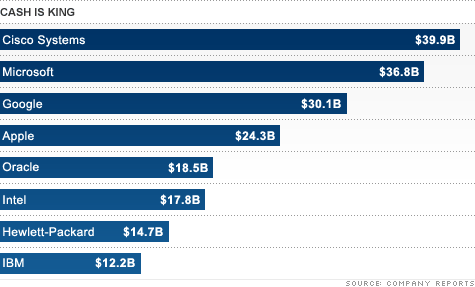 NEW YORK (CNNMoney.com) -- Cash is king, and Big Tech companies have it pouring out their ears.
A combination of cost-cutting tactics and an improving economic climate have driven tech-sector profits way up this year. In the second quarter, technology industry earnings are on track to rise 66% compared to last year, according to Thomson Reuters.
That has led to massive stockpiles of cash at some of the world's tech giants. The eight biggest companies in the industry are sitting on a collective stash of more than $194 billion.
But CEOs playing the role of Scrooge McDuck won't impress many shareholders. With cash earning next to nothing nowadays, investors want companies to put their cash to good use. The result: A tech M&A frenzy that industry analysts think is just getting started.
Companies can use excess cash to pay a dividend to shareholders, but there's only so much businesses want to give away, and tech companies are notoriously stingy with their dividend payments. Companies can also buy back their own shares, but some argue that strategy isn't a great deal for shareholders. Another path is to invest internally, ramping up spending on research, development and hiring.
Instead, tech companies have lately gone with a third option: buying up companies that catch their eye.
In August alone, Intel (INTC, Fortune 500) bought McAfee for $7.7 billion and acquired Texas Instruments' cable modem unit, IBM (IBM, Fortune 500) bought Unica for $480 million, and Google (GOOG, Fortune 500) bought Slide for about $200 million. Dell (DELL, Fortune 500) bid $1.15 billion last week for storage company 3PAR, but Hewlett-Packard outbid it on Monday to the tune of $1.6 billion -- after scooping up security software company Fortify last week.
Analysts say the buyout boom is fueled by companies' reluctance to gamble on hiring and internally developing new product lines. It's safer -- and often cheaper -- to buy up those others have built.
"Everyone's done a great job at cutting costs and making themselves profitable, but investors are asking where the growth is," said Eric Johnson, director of the Center for Digital Strategies at Dartmouth University's Tuck School of Business. "Cost-cutting has created a toxic environment in many firms for internal investments, and you can't beat the speed to growth of an acquisition."
There is often a snowball effect in acquisitions, leading some companies to snap up smaller companies simply so they don't get left out of the action.
But it also doesn't hurt that the cost of capital is extremely cheap right now, and a lot of potential takeover targets are attractively priced. The economic downturn has hammered many stocks, allowing buyers to offer generous premiums on valuations that are much lower than they would have been a few years ago. IBM purchased Unica at a 120% premium, and Intel offered 60% more for McAfee's shares than they were going for at the time. HP's 3PAR (PAR) offer is a staggering 149% higher than 3PAR's shares traded at before Dell announced its offer.
Those three takeover targets do business in analytics, security and storage, respectively -- high-growth areas that yield technology applicable to a wide array of business uses. They're exactly the kinds of companies that make attractive takeover bait.
The question is how long this trend will last. So far this year, there have been 21 billion-dollar deals worth a total of $46.4 billion, according to The 451 Group. That compares to just six last year, totaling $19.7 billion.
Some say the coast is clear for many more deals.
"There are still plenty of attractive transactions to be done," said Murray Beach, managing director of TM Capital's technology group. "Our clients' pipeline suggests this trend will continue, and there will be a pretty significant rise in these deals for the foreseeable future."