Dan Akerson's first day at the top of GM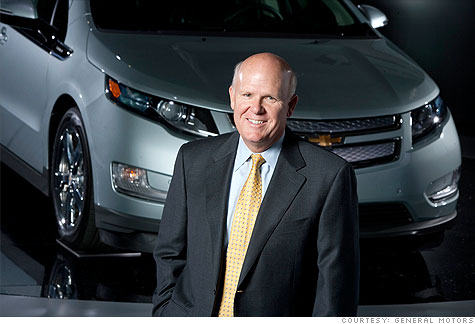 FORTUNE -- Once upon a time another Naval Academy graduate, Ross Perot, tried to right troubled General Motors Corp. as an activist director. Now it's the turn of Dan Akerson, class of 1970 and a telecoms executive-turned-private equity specialist.
Akerson, a GM director, takes over on Sept. 1, the fourth GM CEO in 18 months. His promotion from a GM board seat caps a turbulent period for the company's management that began with the firing of Rick Wagoner shortly before the automaker's bankruptcy and refinancing by the U.S. government. He replaces Ed Whitacre Jr., a former telecoms executive, who stepped down as CEO after only nine months on the job but remains chairman.
With no experience in heavy industry or manufacturing, Akerson will be handicapped by having to learn how to lead a complicated and highly competitive business on the fly, during a weak economy in the U.S., GM's most important market. He'll be distracted initially by having to devote time and energy to convince investors to buy GM common stock in its initial public offering. The Obama administration is eager to sells its 61% stake in GM.
If he's looking for clues about what to do, Akerson needs only look across town to Ford Motor Co. (F, Fortune 500), where outsider Mulally has made an impressive impact as a CEO recruited from Boeing (BA, Fortune 500). Since 2006, Mulally has returned Ford to profitability while reshaping the No. 2 U.S. automaker's culture. Ford, like GM, had been managed as a worldwide collection of businesses, which often battled one another more fiercely than Toyota (TM) or BMW. Mulally put his foot down, outlawing the intramural bickering that hurt Ford's performance.
Bill Ford Jr., spokesman for the Ford family, has said Mulally can stay on as CEO as long as he likes. Steve Rattner, who acted as auto czar for the Obama administration and hired Akerson as a GM director, said: "Mulally and Bill Ford deserve all the credit they're getting. Of course GM is going to be measured against Ford. They're two companies with similar difficulties in the same city -- and one, Ford, is more profitable than the other. I think the difference has been management.''
Back in 1984, after Perot sold Electronic Data Systems to GM and joined the automaker's board, the future presidential candidate was likewise appalled by the warring factions that seemed to characterize how cars were made in Detroit. Perot's attempts to make GM a stronger, faster team dedicated to beating Japanese automakers instead of fighting one another were rebuffed by then-CEO Roger Smith.
Akerson brings private-equity experience to GM, which he learned first at Forstmann Little & Company and most recently as managing director of The Carlyle Group and head of its global buyout practice. Buying failing or underperforming companies and rapidly returning them to health is tricky, because the new owner must make sweeping changes and doesn't have much time to satisfy investors and lenders before throwing in the towel.
"I believe private equity is a good discipline that shows how to make money in business, that's why I wanted a couple of people with this experience on the board,'' said Rattner, who is writing a book on the restructuring of GM and Chrysler, due to be published Oct. 14. In addition to Akerson, private-equity investor David Bonderman serves as a GM director.
Though GM has fresh financing and new directors and top executives, the white collar ranks contain many of the same people (though fewer in number) that managed the automaker in its glory years. Akerson will have to instill in GM lifers a sense of urgency and focus after almost two years of constant turmoil.
Like Perot, Akerson has a patriotic bent. A Republican and former Navy officer who served on a destroyer, he sought the GM board seat because he regards a vital, competitive GM a national priority. "Given the extraordinary failure by GM, it's ridiculous to think that lack of industry experience is a liability,'' said Rattner. "Fresh blood and a different perspective are exactly what the place needs. It's amazing how much difference only one or two people can make.''