Can mom afford to work only part-time?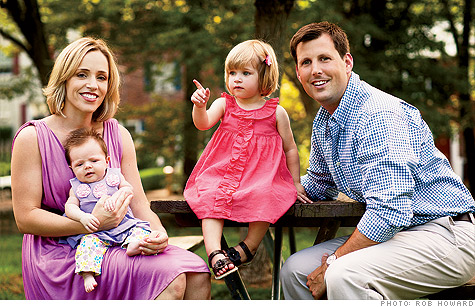 (MONEY Magazine) -- Shawn and Mary Kate DeRose live comfortably on a combined $133,000 income. They pay their debts, save for retirement, even have room to splurge on dinners out and high-end gym memberships.
But the birth of their second child, Regan, in May has Mary Kate, 33, a literacy coach for a school district, thinking of dialing back to part-time work. "In a perfect world, I'd be able to spend more time with my girls," she says.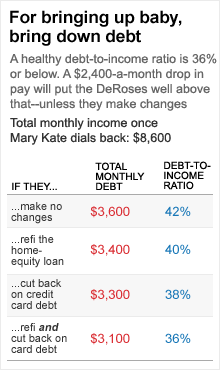 Her employer will let her go half-time for half pay: $32,600. But is that enough -- along with the $78,000 that Shawn, 33, earns as an assistant principal -- to support their lifestyle?
With a $3,600 monthly debt load that includes payments on a mortgage, home-equity loan, auto loan, and credit cards, their budget will be tight, warns Alexandria, Va., financial planner Tim Wesling.
They'd need to cut debt by $500 a month and other expenses by $1,300, he says. That's more than the DeRoses had bargained for.
"We really have to think about it," says Mary Kate.
Their Goals
1. Meet current expenses on a smaller monthly income: $8,600 rather than $11,000.
2. Keep saving enough for retirement. Right now they have $7,500 in cash, $38,500 in retirement funds and $2,100 in college savings accounts.
What They Must Do
1. Cut the debt. The DeRoses are paying 7.8% on a $63,000 home-equity loan. They could refinance and shave more than 2 percentage points off that rate, reducing their minimum payment by $200 a month. Wesling also wants them to nix the $300 a month they put on credit cards (for meals out, clothes, and the like).
2. Take the ax to expenses. The couple will save $500 a month on day care, but that still leaves them with $800 to cut. They might get rid of their older car and reduce costs across their budget to do it.
3. Keep saving. Shawn should continue stashing 10% of his income for retirement even as the couple trims elsewhere. As he gets raises, he should direct the cash to retirement and the home-equity loan.