Home prices gain 3.6% in past year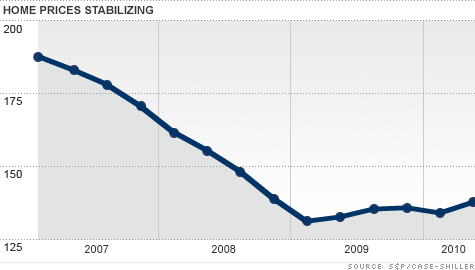 NEW YORK (CNNMoney.com) -- Despite a recent spate of bad news coming out of the housing industry, home prices show signs of stabilizing.
National home prices jumped a substantial 3.6% in the past year, according to the S&P/Case-Shiller Home Price Index released on Tuesday. Prices also climbed 4.4% in the second quarter compared with a 2.8% plunge in the first quarter.
"While the numbers are upbeat, other more recent data on home sales and mortgages point to fewer gains ahead," said David M. Blitzer, chairman of the Index Committee at Standard & Poor's. "Even with concerns about near term developments, we recognize that the housing market is in better shape than this time last year."
Of course, the positive report was buoyed by the government's tax credit program, which refunded as much as $8,000 for homebuyers. With that program now over, markets could cool.
"We all know what happened to housing after the homebuyers tax credit ended," said Mike Larson, real estate analyst for Weiss Research. "It's been an Acapulco-sized cliff-dive."
And because this report is a lagging indicator, Larson adds that "it would be foolhardy to think that this report tells us that prices will continue to rise." Instead, he expects prices to slowly deteriorate over the next several months.
In fact, home prices across the country could be substantially lower a year from now, according to Pat Newport, an analyst with IHS Global Insight. "It's now apparent that the demand for housing is a lot weaker than anyone thought," he said.
That has resulted in a glut of inventory, which a slew of bank repossessions of foreclosed properties is only making worse. Plus job gains are still proving elusive.
"These three factors are enough to bring home prices down," Newport said.
Winners and Losers
A market basket of 20 metro areas tracked by the S&P/Case-Shiller home price indexes showed that prices gained in all markets but one. The index is up 4.2% year-over-year, well above a 3.1% forecast from industry experts as compiled by Briefing.com. The month-over-month gain was 1%.
"Las Vegas was the only city to record a fall in prices during June (-0.6%), compared with a month earlier. All 19 other markets were either up or flat, with Chicago, Detroit and Minneapolis the biggest winners. Each gained 2.5%.
Fifteen of the 20 cities recorded 12-month price rises, with San Francisco leading the way. Its 14.3% increase was one of three cities posting double-digit gains, with San Diego prices jumping 11.2% and Minneapolis 10.7%.
Las Vegas had the biggest 12-month loss, down 5.2%.