Oil roars into September 'like a lion'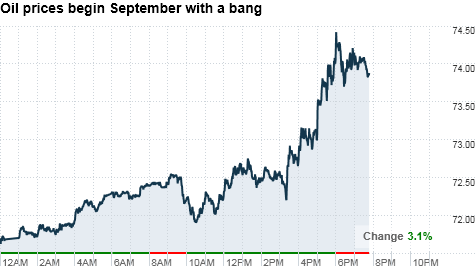 NEW YORK (CNNMoney.com) -- After ending August in a slump, oil prices surged into September, rallying nearly 3% Wednesday as the economic outlook brightened.
"August was the worst month for oil since last May, with oil bulls really getting beat up as economic data started to turn South," said said Phil Flynn, a senior market analyst at PFG Best. "But we went out of August like a lamb and into September like a lion."
Disappointing reports on housing, jobs and economic activity dragged oil prices 9% lower last month as investors worried about the health of the economy and global demand for oil.
But sentiment took a turn for the better on the first day of September, with oil prices rebounding after a better-than-expected report on manufacturing eased jitters.
"Blockbuster" manufacturing data: "What really seemed to bring the market back was this blockbuster ISM number," said Flynn.
The Institute for Supply Management (ISM) reported Tuesday that its index of manufacturing activity, a key gauge of economic strength, surged to 56.3 in August from 55.5 in July, while economists had expected a drop to 52.9.
"Throughout the recovery, manufacturing has been one bright spot, so earlier when regional manufacturing numbers weren't coming in as good, people thought the bright spot was starting to dim," Flynn explained. "But this report showed that the bright spot has once again moved out from behind the clouds."
Still not out of the woods: The mood could quickly turn sour if more economic data doesn't improve from the previous month, said Flynn.
On top of that, crude supplies are at the highest level since 1990 and demand is dropping as we enter "shoulder season" -- when it's too late to turn on the air conditioner but too early to turn on the heat -- so oil could easily hit another rough patch.
"Hope springs eternal in the beginning of the month, but the month of September is going to be a tough one for the market," said Flynn. "We're still not out of the woods yet, so the bulls better enjoy the gains while they can."
Depending on what upcoming economic reports say about the shape of the economy, Flynn expects prices to trade between $67 a barrel and $76 a barrel through September.