Sony revamps e-readers -- and hikes prices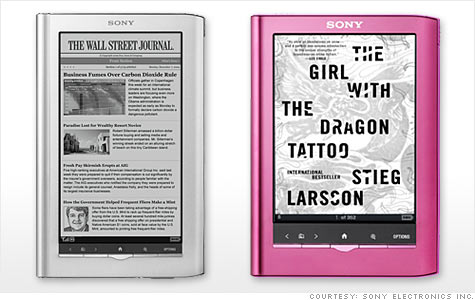 NEW YORK (CNNMoney.com) -- Sony updated its line of e-readers Wednesday, a move that brought a touchscreen to its cheapest version but also hiked its price by almost $30.
The revamp tweaks the design of all three devices -- the Pocket, Touch and Daily Edition -- to make them smaller and lighter. But the real changes are in the technology updates.
The old Touch and Daily Edition Readers featured a touchscreen overlay, which some users complained was unresponsive and low-contrast. The Pocket had no touchscreen. Now, all three versions feature touchscreens with infrared sensors that read taps from fingers or the included stylus.
Sony also improved the E-Ink display's contrast for clearer text and photos, even in direct sunlight. And it announced plans to release a Reader Mobile Edition for iPhone and Android-based phones "later this year."
But the design buffing and tech updates in Wednesday's retooling also brought an increased price for all three models.
That's an unusual move, as other e-reader manufacturers are locked in a war that's led to a race to the bottom in pricing.
Sony (SNE) is now selling the Pocket for $179, a $29 price increase from the previous version. It's smaller and sleeker, with 2 gigabytes of memory -- about four times the storage on the old version -- but it still has a 5-inch screen, smaller than the screens of its biggest rivals.
The 6-inch Touch also began selling Wednesday for $229, a $59 price increase. The 7-inch Daily will cost $299 when it is released "in time for the holidays." That's $49 more than the price of the current model.
Still, thanks to multiple price drops over the past year, all three Sony readers remain cheaper than their original prices when they debuted in 2009.
Sony readers more expensive, less advanced: By contrast, Amazon's (AMZN, Fortune 500) cheapest Kindle is $139, while the Barnes & Noble (BKS, Fortune 500) Nook starts at $149.
On Wednesday, Borders said it would drop the prices of its two readers by $20. The Kobo reader is now $130 and the Aluratek Libre Pro costs $100.
Though the Sony devices cost more, most lack the Internet connectivity that's standard on some rival e-readers.
The Daily now has Wi-Fi access, and it can also get online via AT&T's (T, Fortune 500) 3G cell phone network. But users with the Pocket and Touch versions are stuck loading e-books with a USB drive, memory stick or SD card.