4 surprise bright spots in the economy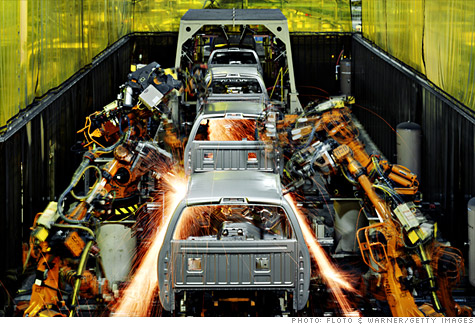 FORTUNE -- Good economic news has been hard to come by lately, but not all is doom and gloom in America these days. The end of summer ushered in a few signs of progress in some of the unlikeliest corners of the economy. They are no guarantee that the good times are around the corner, but they do provide a helpful reminder that this slow recovery is exactly that: a recovery.
Fortune highlights four bright spots, and assesses what kind of a lasting impact they might have on the economy.
Farming a recovery
Of all the industries impacted by the recession, U.S. agriculture remains relatively resilient as prices soar for everything from meats to grains, mostly on demand from markets overseas.
American farmers will export $107.5 billion in agricultural products this fiscal year that ends Sept. 30, the second highest ever after the 2008 record of $115.3 billion, The New York Times reported, citing federal estimates of farm trade and income.
Asia, and especially China, has driven much of U.S. agricultural exports. China is expected to surpass Mexico next year as the second-largest foreign buyer of American farm products after Canada.
Despite the increase, agriculture can only carry the U.S. so far since it makes up only a small fraction of the overall economy. And it's not as if farmers can bank on agriculture alone -- the Times notes that household income for many who live on farms comes mostly from off-farm jobs and other sources.
While it appears that agriculture alone probably won't be enough to sustain America's economic recovery, the surge will likely continue to last for a while as foreign markets, especially China, continue to demand products.
U.S. corporate buying frenzy
Last month was the busiest August on record for mergers and acquisitions volume worldwide, and the $286 billion worth of deals announced marked the highest monthly level since July 2008, according to Dealogic.
The activity was driven by companies in sectors ranging from technology to agriculture. This included BHP Billiton's (BHP) unsolicited $43.4 billion bid for Potash (POT), as well as Intel's $7.7 billion bid for McAfee (MFE). And Sanofi-Aventis' (SNY) $18.5 billion offer for Genzyme (GENZ, Fortune 500) on August 29 raised the total value of global hostile bids to date to $133.8 billion, a 26.6% increase over the previous year.
Global volume of mergers and acquisitions is at $1.8 trillion so far in 2010, up 24% from the previous year during the same time. One of the most interesting aspects about the peaked activity is that the value of deals in Europe and Asia rose this year, but the number of deals in each region was unchanged. The U.S. came in as the unlikely bright spot amid a fragile economic recovery. The value of M&A deals here increased only 5%, but unlike other regions, the number of deals was up 42%.
Many bankers are bullish on the potential for more deals ahead. While M&A activity often indicates a sign of strength in the market, some analysts caution that it's too early to declare a comeback, as highlighted by Fortune last week.
Detroit. Yes, that Detroit.
Detroit has long been known as the capital of the rustbelt, languishing from the troubled auto industry. But earlier this month, The New York Times suggested the city might be going through a re-birth as the auto industry significantly changed the way it did business following huge government bailouts of General Motors and Chrysler.
The Times called Detroit an "economic bright spot," highlighting a series of improvements at The Big Three: Ford Motor (F, Fortune 500), General Motors and Chrysler. It's true the companies have come a long way, but calling Detroit a bright spot amid a slowly recovering economy is probably somewhat of a stretch, at least for now.
Indeed, the industry has made huge strides. Ford churned more money in the first six months of this year than in the previous five years combined. GM, which received a $50 billion taxpayer bailout following its bankruptcy in June 2009, has filed for one of the biggest public stock offerings in U.S. history. And Chrysler is hiring new workers.
These are big turnarounds. Yet it remains to be seen how these companies will compete with foreign markets, mainly China (the world's largest auto market), Japan and Korea. The auto industries in these countries have proven to be more lean and efficient than their American counterparts.
The worst clearly isn't over yet -- GM announced last week that sales plummeted 25% in August. And it remains to be seen how long the lessons learned from GM and Chrysler's near collapse into bankruptcies will last with new leadership at the companies.
The bright spot is in the industry's changes. A remake of Detroit might follow. But whether or not the Big Three's momentum will last can only be told with time.
Manufacturing growth
American manufacturing has generally been in decline for decades, but the nation's factories have been key to the current economic recovery.
Many analysts predicted manufacturing would fall last month on signs that the global recovery would slow down later this year, but the opposite was true. U.S. manufacturing expanded faster than expected as factories added workers and raised production to restock inventory and respond to demands form markets overseas. The Institute for Supply Management's factory index rose to a three-month high of 56.3 from 55.5 in July. Most economists predicted it would fall to 52.8 or worse. A reading of more than 50 generally signals growth.
What's more, the surge in manufacturing has translated to jobs, though growth has been concentrated to mostly temporary employment, Tig Gilliam, Adecco CEO for North America told Fortune last week. Though the latest Labor Department report released last Friday suggested that manufacturing jobs fell more than expected in August, temporary jobs rose 17,000. And Caterpillar (CAT, Fortune 500), the Peoria, Illinois-based maker of construction and mining equipment, has announced it may add up to 9,000 workers globally this year.
Manufacturing, which accounts for about 11% of the U.S. economy, helped pull the nation out of the recession. For the U.S. recovery to continue, it will need to hold up.