From Detroit, a fix for smog-belching motorcycles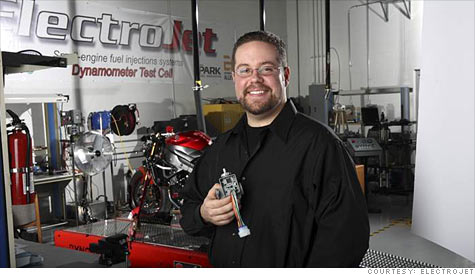 DETROIT (CNNMoney.com) -- When Americans debate the impact of fuel emissions on the environment, they usually talk about cars and trucks. But what about smaller vehicles like motorcycles, scooters, lawnmowers and ATVs?
Riding a lawn tractor for just an hour spits out as much pollution you'd get from driving a car for hundreds of miles, according to former Ford Motor Co. engineer Kyle Schwulst.
"It's something that people don't realize, but the traditional automobile has come a long way in becoming much cleaner than smaller engines," Schwulst says. "So much attention has been paid to automotive engines, but the smaller ones are much more harmful to the environment."
That's why Schwulst, 30, founded ElectroJet, a 10-person company that develops electronic fuel injection systems for small engines.
For the non-gearheads out there: Fuel injection systems regulate the mix of fuel and air that goes into internal combustion engines. They make engines more efficient and less polluting. For that reason, fuel injectors replaced carburetors in most trucks and automobiles by the end of the 1980s.
But most small-engine vehicles still use carburetors. That's why they emit so much pollution.
In 2003, Schwulst launched ElectroJet in Brighton, Mich., a distant suburb of Detroit. Now, seven years later, he is going global.
In June, Schwulst signed a partnership agreement with Magneti Marelli, a multibillion-dollar Italian manufacturer of high-tech auto components. The two companies have teamed up to develop an electronic fuel-injection system for the world's two largest motorcycle markets: India and China. Together, those nations build more than 40 million new motorcycles -- equivalent to 75% of the global total -- each year.
New rules limiting motorcycle emissions took effect in China this July. In India, similar regulations are expected to go into effect next year. Both policies closely resemble restrictions that are currently in place throughout much of Europe.
Asia's potential market is vast. "If we look at 40 million vehicles needing our product worldwide each year, with an average sale price around $50 each, that is a $2 billion market," Schwulst explains.
But courting an Asian audience comes with challenges. The biggest? Keeping down costs. A new motorcycle in China typically costs $600 or more -- roughly equivalent to an average citizen's annual wages. Any feature that even slightly increases the price will hurt sales in the Chinese market.. For that reason, ElectroJet's new devices will mimic the size and shape of carburetors in existing motorcycle designs, allowing them to be swapped into production with minimal disruption.
Within the U.S., ElectroJet has been successfully convincing investors it has what it takes to grow. The company has raised about $2.6 million in outside capital. Of that money, the state of Michigan kicked in $1 million in loans and investments; the rest came from private investors, Schwulst says.
ElectroJet's longstanding clients say the company's products are well-designed and flexible, which bodes well for their adoption on a global scale.
One of those clients, Sonex Research, is a company in Annapolis, Md., that designs engine combustion chambers for military drones and other specialized vehicles. Sonex uses ElectroJet products to control fuel delivery.
Schwulst and his team designed ElectroJet's fuel injection systems to work with the four-stroke engines traditionally used in automotive applications. But Sonex engineers have found ways to pair them with the military's preferred two-stroke engines, which typically run on heavy, kerosene-based fuels.
"That's nothing short of amazing," Pouring says, referring to the fuel injectors' flexibility. "It really speaks to the superior design used to create the fuel injection systems. That really is why the company has such a bright future."
Schwulst agrees. Now, thanks to "the partnership with Magneti Marelli, one of the largest suppliers in the market, we have the resources to deliver," he says. "It's a game-changer for us."