Startups flock to Twitter headquarters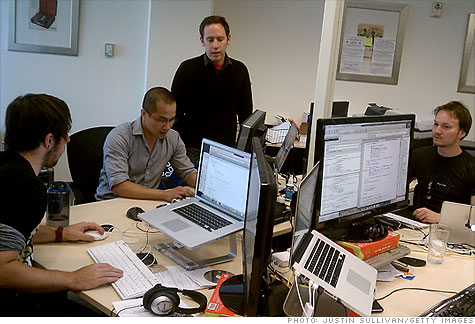 SAN FRANCISCO (CNNMoney.com) -- Sharing ideas and office space in the tech field are as common as sharing APIs, but the collaborative spirit runs especially deep at San Francisco's 795 Folsom Road.
The building houses Twitter, the epicenter of the social networking boom. The fast-growing company has expanded across two separate floors, but it's also sent off some unofficial tentacles. Startups Plancast, Klout, and Storify -- all of which build their own applications atop Twitter's platform -- have set up shop on the ground floor.
For Klout founder Joe Fernandez, the location was no accident: "I originally rented this office and chose it specifically because Twitter was in the building," he says. "I had started Klout in New York City and moved to San Francisco, figuring that if we were going to take a risk and build our company on their platform that it was important to try and be best friends with them."
The office's newer arrivals get to take advantage of that foresight. "We would have moved in there anyway because it was a nice space with other startups, but it certainly was a bonus to be close to Twitter so we could meet with them easily," says Plancast founder Mark Hendrickson.
Their open, shared space looks like the archetypical tech startup pad. Wires are scattered everywhere, skateboards resting against tables topped with giant-screened Macs, and whiteboards covered in scrawled notes dot the walls.
Burt Herman of Storify, a fledgling site that aims to curate social media, says the proximity has helped his company out in its developing stages.
"It's great to be in the same building as Twitter. We can go and talk to them about any issues we have as far as using their platform," Herman says. "We can learn from the other startups here and get help and collaborate."
It's not the first time startups building around a common platform have aggregated in the same spot. Red-hot during the dot-com era -- and then ice-cold the minute the bubble popped -- incubators have come back into vogue recently. Software developer Salesforce.com (CRM) was an early evangelist. Three years ago, it launched an incubator program for startups creating applications for its AppExchange marketplace.
CEO Mark Benioff offered up space in a building that also housed Salesforce.com offices, with the idea that access and proximity would help emerging companies flourish.
Chris Barbin is the founder of Appirio, one of nearly a dozen startups that launched within Salesforce.com's incubator. "Being in the flow of their day-to-day was very powerful," he says. "When we started in the incubator there were literally four of us."
Appirio, which offers software and services for companies adopting remotely hosted "cloud" computing systems, now has 200 employees and $17 million from venture capitalists. Face time with Salesforce.com execs -- plus access to the company's sales and marketing teams -- was a key advantage in building the company, Barbin says.
"The opportunities we've seen have definitely been accelerated by the presence here," he said. As the startup established itself, it left the AppExchange program, but still remains in the building.
Salesforce.com seems to have quietly ended its incubator program. Company representatives won't comment on its status, and point instead to their other developer and partner programs.
Like the ventures they nurture, incubators sometimes flare brightly and then fade away.
Facebook launched an incubator last summer, fbFundREV, through which it directly funded and mentored startups building around the Facebook platform. The 20 chosen companies shared office space for 12 weeks in Palo Alto, Calif.
Mark Schmulen, CEO and co-founder of Nutshellmail, credits the program with making his company a success. Nutshellmail, which sends subscribers a summary e-mail tracking all kinds of news and events from their Facebook stream in one snapshot, was acquired by marketing company Constant Contact soon after its Facebook summer.
"I can't tell you how much we learned," Schmulen says. "It wasn't just what we learned, or that we could pick up the phone and talk to someone at Facebook, but what it did for us was it got us out here to this ecosystem and gave us credibility."
But Facebook put the incubator on hold, opting not to run a second session of it this summer. The company recently teamed up with seed venture firm Y Combinator for a new startup support program that will be "slightly more arms-length" than its previous efforts, according to Carl Sjogreen, Facebook's manager of platform products. Through that partnership, Facebook will offer companies inside access, development support and an advance look at new features.
While the startups that aggregated at 795 Folsom Road did it organically, the perks of developing your startup in close proximity to its major platform add up fast.
"At least once a week something comes up where being able to jump in the elevator and talk to someone in person is a huge advantage for us," says Klout's Fernandez.
And as ventures grow, those benefits can even start flowing back in the other direction. Referring to his marketing firm's splashy new client, Fernandez says: "It's funny -- now that we are doing exciting things like the Virgin America campaign, I think Twitter likes having us close by, too."