Obama's bridge, train and road fix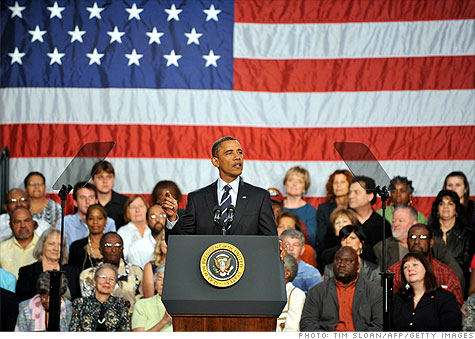 NEW YORK (CNNMoney.com) -- Government transportation spending is full of costly boondoggles.
President Obama is proposing a way out of that. As part of a wider spending program he detailed Wednesday that includes tax breaks for businesses and $50 billion in infrastructure spending, the president is floating the idea of an "infrastructure bank."
An infrastructure bank is designed to leverage public money with private funds, creating much more bang for the taxpayer buck. It's also designed to take politics out of infrastructure spending by moving the decision making away from Congress to an independent panel. Think of it as a way to avoid more bridges to nowhere.
The idea garners support from transportation experts of all ideological stripes.
"For every dollar you spend, you get substantially more investment," said Bracken Hendricks, a senior fellow at the left-leaning Center for American Progress who specializes in energy and infrastructure. "It's really a smart way to do it."
While the bank faces strong opposition on Capitol Hill, here's how it might work:
Obama offered little in the way of details on how the bank would be funded or structured. But Emil Frankel, a former transportation expert in the administration of George W. Bush and now director of transportation policy at the Bipartisan Policy Center, said it could be started with an initial investment of maybe $2 to $4 billion.
That money would be used to guarantee loans for private capital on projects the private sector is interested in funding. That would include any infrastructure with a revenue stream like toll bridges and highways, Internet cables, or high speed rail.
Frankel said loan guarantees allow private firms to access capital at low interest rates. They generally result in garnering about 10 times the investment for each dollar of government money - so $4 billion in guarantees would generate $40 billion in spending.
The money is certainly needed.
Engineering groups have long criticized the country for neglecting its infrastructure. The nation now has a backlog of some $2.2 trillion in projects that need funding, according to the latest report from the American Society of Civil Engineers.
"If we rely solely on public money right now, we're really in trouble," said Hendricks. "We're nowhere near to closing that gap."
Another benefit to the bank is that it takes infrastructure decisions out of the sometimes pork-soaked hands of politicians and puts them in those of transportation experts.
"We need a source of funding for major projects that's not dependent on partisan politics," said Ken Orski, publisher of the infrastructure newsletter Innovation NewsBriefs and a former transportation official in the Nixon and Ford administrations. "This is a good idea."
But that very concept may be a source of the bank's undoing.
In addition to the usual concerns over too much spending in a time of massive deficits, the bank faces considerable opposition from Congress members concerned about their loss of power.
"Congress would lose their ability to fund major infrastructure projects," said Orski, who added that there are big concerns about "delegating major investment decisions to unelected bureaucrats."