Hurd could get $10M bonus from Oracle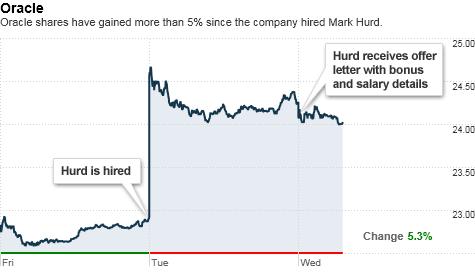 NEW YORK (CNNMoney.com) -- Oracle Corp. said Wednesday it will pay its new co-president, Mark Hurd, an annual salary of $950,000 and that he could receive a bonus of up to $10 million.
The offer letter, filed with the Securities and Exchange Commission, comes after software developer Oracle announced late Monday it would hire Hurd, and about a month after his controversial departure from Hewlett-Packard, where he was CEO.
In the letter, Oracle (ORCL, Fortune 500) said Hurd will be eligible for election to the board of directors early next month. Hurd will be responsible for Oracle's global sales, consulting, marketing and support organizations. He will report to Oracle CEO Larry Ellison, who publicly slammed HP when the company let go of Hurd.
Hurd will also be granted an initial stock option to purchase 10 million shares, at an exercise price equal to the stock price on the date of the grant. Based on Tuesday's closing price for Oracle, 10 million shares would be priced at $246.2 million. Hurd will also receive options to purchase 5 million shares each year over the next five years.
Oracle's compensation for its top executives is typically lavish. Safra Catz, who will remain co-president alongside Hurd, took home an estimated $36.4 million last year in salary, bonus and options -- down from the $42.3 million she collected a year earlier. Charles Phillips, who resigned as an Oracle co-president on Monday to make room for Hurd, made $30 million last year.
But Hurd's hiring process isn't over. Late Tuesday, HP (HPQ, Fortune 500), which competes with Oracle in markets including computer servers and software, filed a lawsuit against Hurd to block him from joining Oracle.
HP said in court documents that Hurd has put its "most valuable trade secrets and confidential information in peril."
Hurd resigned suddenly from HP early last month. HP claims that he failed to tell the board about a "personal relationship" with actress Jodie Fisher, who was working as a marketing contractor for the company.
When Hurd left HP, he received $12 million in cash and kept a large part of his stock and options.
CNNMoney's Julianne Pepitone contributed to this report.