Is Mark Hurd really worth $6 billion to Oracle?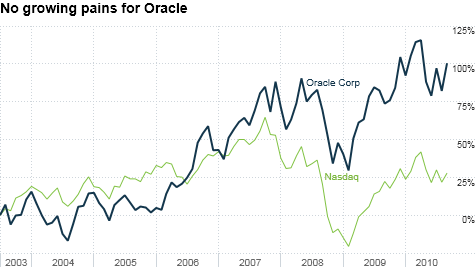 NEW YORK (CNNMoney.com) -- If it weren't insulting enough that Oracle CEO Larry Ellison publicly blasted Hewlett-Packard for letting Mark Hurd go, it now turns out that HP's loss is Oracle's gain.
The news that the former HP CEO is joining the business software giant as a co-president sent shares of Oracle surging 5% Tuesday. That bump added more than $6 billion to Oracle's market value.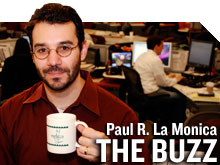 HP, on the other hand, was down about 1% Tuesday. Its shares have fallen nearly 14% since Hurd's shocking resignation last month in the midst of a sex/expense reports scandal.
Oracle's stock was still up even after HP disclosed Tuesday afternoon that it filed a civil suit against Hurd in which it alleged that he "has put HP's most valuable trade secrets and confidential information in peril" by joining Oracle.
But are investors getting overly excited about Hurd? There appear to be two reasons why the market is so jazzed about Hurd joining Oracle (ORCL, Fortune 500).
The first is the hope that Hurd, thanks to the hardware experience he has from his years at HP (HPQ, Fortune 500), can help revitalize the server business of Sun Microsystems, which Oracle agreed to buy last year.
That may be easier said than done.
"The stock's move today is a bit ahead of itself. Mark is a great executive, but I'm not sure he can drive that quick of a turnaround in the Sun business," said Brad Reback, an analyst with Oppenheimer & Co.
The second cause for enthusiasm is the possibility that Hurd may one day succeed Oracle co-founder and CEO Larry Ellison in the top spot. But there's a problem with that thinking: Ellison would have to leave first. And barring his untimely demise, it's doubtful that will happen.
Mind you, that may not be a bad thing.
During the past decade, Ellison -- along with Oracle's other co-president Safra Catz -- have transformed the once-sleepy database software developer into a one-stop tech powerhouse that rivals not just software competitors SAP (SAP) and Microsoft (MSFT, Fortune 500) but also more diversified hardware/software hybrids like IBM (IBM, Fortune 500) and, yup, HP.
Since Oracle launched its stunning acquisition spree with a hostile takeover bid for PeopleSoft in June 2003, shares of the company have nearly doubled. The Nasdaq, by way of comparison, is up less than 40% during the same timeframe.
Hurd's arrival might be a sign that Oracle is not done shopping yet. Stuart Williams, director of software research with Technology Business Research in Hampton, N.H., said that he would not be surprised if Oracle soon looked to buy a storage company.
"This clearly signals Oracle wanted someone with demonstrated experience in transforming hardware businesses," he said. "Hurd brings with him a lot of investor goodwill from his performance at HP. He has closed several large acquisitions, and that speaks volumes about where Oracle might be going in the future."
But how long will Hurd really stick around at Oracle? Just a month ago, he was one of the most celebrated CEOs in Silicon Valley. Will he be content as the number 2 -- or number 3 if you take into account Catz's seniority -- to Ellison?
"We do not believe that this transition will materially affect the roles of what we view as the two most important executives at Oracle at this time -- Mr. Ellison and Ms. Catz," wrote J.P. Morgan analyst John DiFucci in a report Tuesday.
Questions about Oracle's succession plan are hardly new. The combination of Ellison's strong personality and his lack of desire to sail off into the sunset (literally, as he's an avid yachtsman) has led to a revolving door of high-profile executives who were once assumed to be candidates for the CEO spot.
That list includes Ray Lane, Gary Bloom, Marc Benioff, Craig Conway, Tom Siebel, Harry You, Greg Maffei and now, ex-Oracle co-president Chuck Phillips, who is leaving to make way for Hurd.
Of course, Phillips had a sex scandal that dwarfed Hurd's -- also literally. A former paramour of Phillips had billboards put up in New York, Atlanta and San Francisco earlier this year that showed her with the married Phillips, complete with an an alleged quote from Phillips proclaiming her his "soulmate forever."
But it's telling that only Catz been willing to stick around by Ellison's side for the long haul.
What happens if 2013 rolls around and Ellison still wants to remain Oracle's Big Kahuna? Even though Ellison is 66 years old, it would not be a shock if he wanted to lead the company for the next decade or longer.
"I am not sure Hurd is an heir apparent. Larry is not going anywhere anytime soon," Reback said. "I think Larry likes what he's doing and has no interest in doing anything else."
So investors who are buying Oracle today need to temper their expectations a bit. For now, it looks like Hurd is merely being brought in to lead the still-small hardware side of Oracle's business -- not to be the new Larry Ellison.
- The opinions expressed in this commentary are solely those of Paul R. La Monica. Other than Time Warner, the parent of CNNMoney.com, La Monica does not own positions in any individual stocks.