Plastic panic: Visa, MasterCard in bargain bin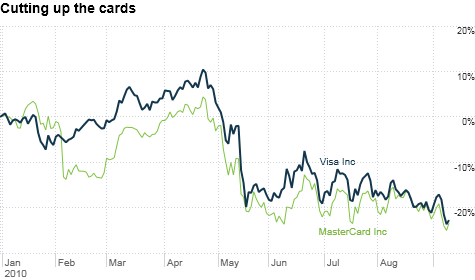 NEW YORK (CNNMoney.com) -- The second most famous quote from the movie "The Graduate" --- the top undoubtedly has to be "Mrs. Robinson, you're trying to seduce me." -- is the one where Mr. McGuire wants to tell Dustin Hoffman's Benjamin "just one word" about his future.
Plastics.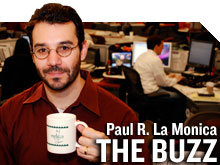 Investors humbly disagree. Before the Great Recession, many consumers frequently chose plastics (i.e. credit cards) over cash. But the combination of the still-weak economy and tough new financial reform rules have sent the shares of the two top credit card networks Visa and MasterCard reeling lately.
Shares of Visa (V, Fortune 500) have fallen nearly 7% in this short trading week and are barely above their 52-week low. MasterCard (MA, Fortune 500) is down 5% since Labor day and is also perilously close to its low point for the past 12 months.
The stocks both took a dive earlier after BofA Merrill Lynch analyst James Kissane downgraded Visa on Tuesday from "underperform" to "neutral." In sell-side analyst speak, "neutral" is essentially a "sell."
But are the recent worries overdone? Some other analysts believe so.
Thomas McCrohan, an analyst with Janney Montgomery Scott, said that the BofA downgrade really spooked investors because it was the first major downgrade of Visa or MasterCard in the past few months.
He said investors may now fear that this downgrade is just the first of many ratings cuts for Visa and MasterCard. But many analysts are still bullish on the credit card giants despite the regulatory uncertainty and macroeconomic woes.
McCrohan said it's true that tougher regulation may hurt the two companies, particularly the so-called Durbin Amendment (named for the Illinois Senator who proposed it) to the financial reform bill that calls for the Federal Reserve to study debit card fees set by Visa and MasterCard and possibly impose limits on them.
But he said that the worst-case scenario fears are overblown.
"Debit card fees are coming down. That is going to happen. But it won't be as bad as some people expect it to be," he said.
Scott Valentin, an analyst with FBR Capital Markets, agreed. In recent reports about Visa and MasterCard he conceded that the stocks are likely to suffer until it becomes more clear just what the impact from tougher rules in Washington will be on both firms.
But he added that there still is a global shift away from paper currency transactions to electronic forms of payment that should benefit both companies.
Still, some fear that Visa and MasterCard may not be in the best position to capitalize on that shift.
Both stocks took a dip in early August following reports that wireless carriers AT&T (T, Fortune 500), Verizon (VZ, Fortune 500) and Deutsche Telekom's (DT) T-Mobile were looking to partner with Discover Financial Services (DFS, Fortune 500) on a mobile payment system for smartphones.
But Mayank Tandon, an analyst with Signal Hill Capital Group, said that it's not as if there is a risk that phones will replace credit and debit cards as a primary way to pay for stuff anytime in the immediate future.
What's more, he said investors would be unwise to count out Visa and MasterCard in the mobile area.
"Mobile payment is still in its early stages. Also, Visa and MasterCard are not sitting on their hands. They are going to be heavily involved in the evolution of mobile payment."
When push comes to shove, both Visa and MasterCard still appear to be companies with strong growth prospects. Analysts expect profits for Visa to rise by 21% in its next fiscal year, which ends in September 2011. MasterCard's earnings are forecast to increase 19% in 2011.
And now, neither company is trading at a nosebleed valuation. Both trade at just 14 times 2011 earnings estimates.
Sure, both stocks may languish for awhile -- no matter how cheap they appear -- as long as the economy remains in a funk. Tandon said that worries about weak consumer spending are legitimate.
But for the long-term, both companies are still market leaders that are poised to bounce back.
"Yes, there are concerns about the general state of the economy and the consumer. But let's put this into perspective. These companies have brand names that are ubiquitous," he said.
Mr. McGuire may have been right after all.
Reader comment of the week: It's not a good week for the color purple (not the fantastic Alice Walker novel).
The Vikings lost their opening game, to the chagrin of CNNMoney.com video superstar and Minnesota native Poppy Harlow. And Yahoo, which for some reason has made purple its official corporate hue, continues to lag all its rivals in Silicon Valley. I wrote about Yahoo's struggles Thursday.
Frank Schab said Yahoo needs to take a hard look at its oft-redesigned home page one more time.
"At a minimum, Yahoo! should update it's look and feel. Frankly, it looks and feels VERY dated -- from the icons and graphics to the layout of the pages to the information density on the pages. The "current" look and feel is stuck in the 80s!" he wrote.
Of course, there was no Yahoo in the 80s. But you get the point. Yahoo is looking more and more like a purple Web dinosaur. Should it change its name to Barney?
- The opinions expressed in this commentary are solely those of Paul R. La Monica. Other than Time Warner, the parent of CNNMoney.com, and Abbott Laboratories, La Monica does not own positions in any individual stocks.