After blah week, stocks to get in gear. No, really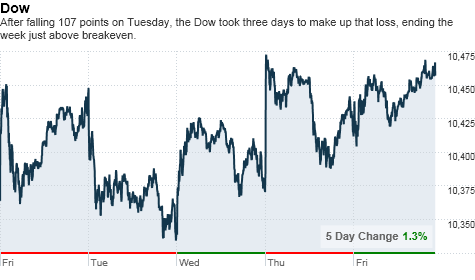 NEW YORK (CNNMoney.com) -- After one big leap back and three baby steps forward, stocks ended up going practically nowhere last week.
This week could be a different story.
Analysts have been saying all summer that they're waiting until mid-September for stocks to take direction, and now mid-September is here. As traders regroup after the shortened holiday week, the upcoming economic calendar offers several potential market-movers that could take the lead.
Coming up: the latest readings on retail sales, industrial production and both producer and consumer prices. In addition, bank stocks may react to new guidelines on capital reserves unveiled Sunday by the international Basel Committee of regulators.
Stocks are coming off an exceptionally light trading week. U.S. markets were closed Monday for Labor Day and trading desks were short-staffed later in the week for Jewish New Year.
Going forward, all three indexes are hovering around what traders deem to be key levels. They are bound to meet resistance unless next week's onslaught of economic data comes in positive and gives stocks a big boost, said Dave Rovelli, managing director of equity trading at Canaccord Genuity.
He expects the S&P 500 -- which ended at 1,110 on Friday -- to struggle to gain beyond its 200-day resistance level of 1,115. The equivalent for the Dow is the 10,451 mark and 2,273 for the Nasdaq.
"Stocks need a catalyst to get through those levels," Rovelli said. "Everyone knows the recovery is going to be slower. We just want to see proof of expansion, not contraction."
Even if contraction isn't in the cards though, hardly anyone is forecasting completely rosy data. Paul Ashworth, senior U.S. economist with Capital Economics, said in a note to investors that he expects this coming week's reports to show consumers are reigning in their spending and manufacturing activity is slowing down from its rapid growth earlier this year.
But he also forecasts that both producer and consumer prices are rising tepidly -- which could calm investors' fears of deflation, and even, a double-dip recession.
Last week, renewed fears about European banks set the Dow back 107 points on Tuesday, and the market was barely able to recover those losses even as stocks posted three following days of modest gains. Overall, once Friday's closing bell rolled around, stocks were barely changed.
The Dow closed at 10,463 on Friday, up barely from it's close at 10,448 the week before. Both the S&P 500 and Nasdaq were also flat.
On the docket
Monday: The Treasury Department is scheduled to release its latest calculations on the nation's budget deficit. The Congressional Budget Office estimated that the August deficit was $95 billion, after the government fell another $165 billion into the red in July.
Tuesday: After two months of declines, retail sales rose 0.4% in July, the Commerce Department said last month. But did the rebound continue into August? Economists are predicting the government's latest data, due Tuesday, will say "yes," with forecasts pointing to a 0.3% increase for the month.
The government will also release its reading on business inventories -- a number that economists watch since it's a component of GDP -- but financial markets don't usually pay much attention to.
Wednesday: Traders will be watching for the New York Fed's Empire Manufacturing Survey before the bell, as well as readings on industrial production and capacity utilization.
Thursday: The number of first-time filers for unemployment benefits is due on Thursday, and is expected to rise to 460,000 from 451,000 the week before. Economists say there's little reason to celebrate the recovery until the number ticks below 400,000.
The government's latest reading on producer prices, which is forecast to show a slight rise in August, is also due before the bell.
Friday: A key index of prices paid by consumers is forecast to show a 0.2% rise in August. After three months of declines, consumer prices rose 0.3% in July. Overall, consumer prices -- a key measure of inflation -- are 1.2% higher over the past 12 months, driven by a spike in gasoline prices.