Michael Kors: Retail's next billion-dollar man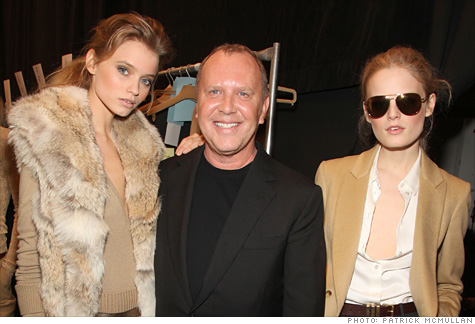 FORTUNE -- When the fashion elite gathered this spring at the Council of Fashion Designers of America awards -- the Oscars of the rag trade -- the crowd at Lincoln Center sat transfixed as they watched Vogue editor Anna Wintour present the lifetime achievement award. Only this year, the distinction went not to a legend of European couture, like Yves Saint Laurent or Christian Dior, nor to an American icon like Ralph Lauren (though those design kings have all won in the past). It went instead to Michael Kors, at 50 the youngest recipient ever.
It was a crowning moment for the designer, landing him officially in the company of great American sportswear designers like Lauren, Calvin Klein, and Donna Karan. ("Holy crap," he told the Daily Beast at the time.) But in truth it was just the latest in a surge of events marking Kors' recent ascendance. For the past few years his business has been growing rapidly. After impressive department store expansion (in some of the hundreds of department stores in which his brands are sold, he's in as many as five separate departments), he is in the midst of a massive rollout of his own retail stores. As a sassy, quip-happy judge on the wildly successful "Project Runway" reality show, now in its eighth season, Kors has become a household name. Last year Michelle Obama chose a Kors-designed black sleeveless sheath for her official White House portrait. Perhaps most important, his stuff is selling: Whether it's hit accessories like his oversize chronograph watch, his classic shift dresses, or his wide range of handbags -- sold in his own stores or in department stores -- Kors is hot. In the fickle fashion world, that would be impressive in any climate. That it has been happening in the wake of an epic, gut-wrenching recession is all the more remarkable. "He is outperforming the market by a wide margin," notes Frank Doroff, vice chairman of Bloomingdale's and general manager of ready-to-wear, who says the Kors business at the department store has doubled since the spring. "There is a lot of buzz on how well all the Michael Kors brands are doing."
Exactly how well the privately held Michael Kors is doing is more of a mystery. Though the designer cooperated with New York Magazine on a recent puffy profile that paid scant attention to his business and made no mention of his backers, neither Kors nor the company's CEO, John Idol, nor the main investors agreed to be interviewed by Fortune for this story. Retail sales will hit $1 billion this year, up from a reported $400 million in 2007, according to the company. In fact, its recent success is part of a deeper transformation. Since 2003, Kors and the team behind him have been repositioning the company in an effort to tap a nationwide sweet spot in "affordable luxury."
In the 30 years he has had his collection, Michael Kors has always had a loyal following. His clothes are known as much for their meticulous tailoring and rich, luxurious fabrics as they are for their appeal to a wide variety of demographic groups: grandmothers and granddaughters, Palm Beach socialites and trendy downtown girls in New York City, "Project Runway"-loving housewives in the Midwest. "He makes extraordinarily beautiful clothes that are cross-generational and uniquely American," Wintour told the crowd at the CFDA awards, noting that "in an industry obsessed with the cool and the cutting-edge, he is both smart enough and brave enough to design clothes that are about comfort, elegance, and unselfconscious glamour." In other words, his clothes are also notable for what they're not: too edgy or too precious. Michael Kors "really creates salable merchandise," says Catherine Moellering, executive vice president of the Tobe Report, a retail-trend-forecasting publication. "That's one of the things that sets him apart."
That's also what attracted the backers that have made this current expansion possible. Several years ago Kors drew the attention of Silas Chou and Lawrence Stroll, two private investors in the fashion industry who are best known for investing in Tommy Hilfiger in 1989 and taking it public three years later in 1992. Stroll and Chou, through their company, Sportswear Holdings, bought a controlling stake in the Kors brand in 2003 for what the men's wear trade journal DNR estimated to be $100 million. At the time, they said they intended to create the "next great American designer," according to an interview in Time, and announced intentions to go public eventually. Industry sources say the Chou-Stroll team, along with the CEO they handpicked, John Idol, owns 85% of the company. (Chou, sources say, owns the majority of that.) The Stroll-Chou-Idol team is said to make the strategic decisions for the company, with heavy input from Kors, who is said to own the remaining 15%.
In the short time since they came aboard, the company has made a series of bold moves. In 2004, Kors launched the MICHAEL Michael Kors line, a collection of clothes with lower prices -- dresses from $99 to $300, in contrast with the $1,000 to $3,000 dresses at the top of his collection. It proved to be a prescient move when the recession hit. "He wasn't selling at 40% off; he was introducing at a lower price point what a woman wanted to spend for apparel," says Cynthia Cohen, founder of Strategic Mindshare, a retail consultancy.
Then came a major push into higher-margin accessories like perfume, watches, and handbags -- cash-cow businesses compared with clothes. And while Kors licenses some of its accessories production, as do most big brands -- watches, fragrance, eyewear, and some outerwear are all manufactured by licensees -- handbags, footwear, and small leather goods are all made in-house, so it can exert more control over quality. In 2006 the company began an aggressive retail expansion of new, accessory-focused "lifestyle" stores. So far total stores number about 80 in the U.S., with plans for 100 worldwide by year-end and 200 by 2012. The retail push is ambitious -- its stores are opening in the most desirable retail locations -- and global: The company has recently launched or expanded stores in London, Milan, Munich, Seoul, and Tokyo; a colossal 7,000-square-foot store is due to open on the Rue St. Honoré in Paris in February.
Now there are Kors pieces like a white oversize watch that resembles the $6,000 J12 model by Chanel -- or a thin-weave straw tote ($228) in the front main aisle of Macy's (M, Fortune 500) that targets a lower price point than the Santorini straw bag ($328) at Bloomingdale's. Meanwhile, a newer, younger clientele can be found flitting in and out of the lifestyle store in New York's SoHo -- MK on the sign out front -- which on weekends is packed with tourists, hipsters, working women, and young men buying bling for their girlfriends.
So far Kors seems to have managed to walk the precarious tightrope of expanding into more affordable territory without diluting the value of his higher-end collection. "He kept prices high enough so that it's a stretch for some people to wear, but at the same time it's prestigious," says designer and former CFDA president Stan Herman. "So it's something you want to grow up and be able to afford."
Case in point: Anne "Banana" Reily, an 83-year-old member of the New Orleans family behind a Tabasco fortune whom Kors frequently mentions as his longest and most loyal customer. Reily says she lives in Michael Kors suits ("I'm wearing one right now," she told Fortune recently) and still keeps more than 60 pieces in her closet. Her daughter and two granddaughters have their favorites too. "His clothes to me are extremely wearable," she says. "You can dress them up, dress them down. His fabrics are fantastic."
These qualities are what Dawn Mello, the former fashion director at Bergdorf Goodman, noticed when she "discovered" Michael Kors in 1980. A dropout from the Fashion Institute of Technology, he had taken a job at a boutique across from Bergdorf on 57th Street and was given a small amount of space to sell his nascent designs. When the clothes in the window caught Mello's eye, she asked him who designed them. He said they were his, and she asked if he would show his collection to Bergdorf Goodman's buyers. Mello had no idea that there was no collection -- and that in the days before the meetings Kors and his mother had scrambled night and day sewing samples. "He came with clothes over his arm, and his mother came with clothes over her arm," Mello says. "We gave him space on the third floor and said right then and there, 'When can you deliver?'"
Kors has had his own collection ever since. He's had his ups and downs, with a Chapter 11 filing in 1993 when his company faced cash-flow issues, some fits and starts with his men's wear lines (now consolidated under a single Michael Kors collection), and even an early setback in 2004 when his lower-priced line reportedly failed to take off and was withdrawn from Bloomingdale's. He was recruited by LVMH (LVMHF) to design for its Paris-based Celine label in 1997, where he reportedly stayed in what some industry folks call an "undistinguished" period until 2003.
Insiders say those are merely battle scars in an industry famous for booms and busts. It wasn't long after he came back from Paris that Kors found his mojo -- and the right backers. In a field where timing is everything, Michael Kors is said to operate better, faster, and more efficiently than others, getting new products out quickly and filling inventory on time to capture the always fleeting fashion zeitgeist. "He has perfect execution; it's all new, relevant, and interesting every season, and every season he does it again," notes Mark Holgate, fashion news director at Vogue.
Industry watchers expect Kors and his backers to take the company public within a few years. But first they need to complete its transformation from department store wholesaler to retailer -- a difference that the market rewards with price multiples in the high teens and 20s, vs. 12 to 14 for wholesalers, according to industry watchers. "His label definitely has room to grow. It's probably 40% of the way there," says Dana Telsey, CEO of Telsey Advisory Group, a retail equity research firm. She sees the opportunities in more accessories, an expansion of Kors' men's wear line, in which the brand has never been particularly strong, and the growth of international markets -- especially Asia -- where sales are rising far faster than in the U.S.
Things could still go wrong. Too many $100 dresses, and loyal upscale customers could start to wince. Department stores could get peeved at all the new competing Kors storefronts. The expensive store expansion may not prove profitable long term. The economy is still shaky, and public markets may be unforgiving if the company gets there. But clearly Kors has tapped an American appetite. Despite harder times, consumers yearn for affordable fashion -- and it doesn't hurt to have a likable guy on their living room TV sets to deliver it. For the time being, Michael Kors may well have struck upon the ultimate formula for the new retail climate.