Big business and Wall Street bet on GOP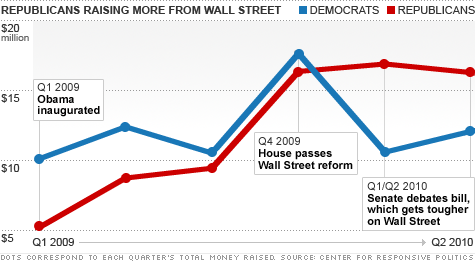 WASHINGTON (CNNMoney.com) -- Banks, investment firms and hedge funds are giving millions of dollars more to Republicans, and abandoning the Democrats they had been supporting just a year ago.
The Center for Responsive Politics says the reversal began early this year, as the Senate started crafting tougher rules to crack down on Wall Street, and that it has become more pronounced.
"We noticed a very dramatic shift right around the beginning of this year, which coincided with financial reform," said Dave Levinthal, spokesman for the Center for Responsive Politics. "This is not just a blip at all; this is a major shift in the opposite direction and one that has persisted ever since."
Looking at the top 20 candidates for federal office receiving strong support from financial firms, only six are Democrats, the center found. New York Sens. Kirsten Gillibrand and Charles Schumer top that list -- which isn't surprising since they represent a chunk of the financial sector, the center noted.
The rest of the top 20 are Republicans, many seeking Senate seats. Former Hewlett-Packard chief executive Carly Fiorina of California tops the list for Republicans, followed by Dan Coats of Indiana and Marco Rubio of Florida.
Some business groups are also giving more heavily to Republicans. While the U.S. Chamber of Commerce tends to support Republicans, in 2008 the group's political committee hiked contributions to Democrats to 39% of their total $144,576. But contributions to Democrats dropped this year to 15% of the total $78,000.
"The chamber is bipartisan; we support Democratic candidates who support our agenda," said Stan Anderson, a managing director at the U.S. Chamber of Commerce, in a response to a question about the chamber supporting mostly Republicans.
Commercial banks and investment firms, in particular, showed a stronger trend in giving more to Republicans, according to the watchdog group.
Bank of America (BAC, Fortune 500) is strongly supporting Republicans this cycle, with Republicans getting 61%, or $834,000, of the $1.4 million total contributions made this year. In the 2008 election cycle, 56% of the bank's contributions went to Democrats, or $1.6 million of the $2.9 million of total campaign contributions.
Morgan Stanley (MS, Fortune 500) is also favoring Republicans, with 55%, or $607,000 of their $1.1 million total, going to Republicans, after favoring Democrats in 2008.
This cycle, Citigroup (C, Fortune 500), of which the federal government still owns a chunk, appears to be playing it safe by giving equally to Democrats and Republicans, about $480,000 a piece. But in 2008, they also favored Democrats, with Democratic candidates getting 63%, or $3 million of the bank's $4.9 million in total contributions.
A Citigroup spokeswoman declined to comment.
Even the giant investment firm Goldman Sachs (GS, Fortune 500), which has favored Democrats for 20 years has tilted toward Republicans this election cycle. Since January 2009, employee and political committee contributions totaled $1.7 million, with nearly a million, or 54%, going to Republican candidates.
Goldman has been the starting point for some big-name Democratic politicians, including former New Jersey Gov. Jon Corzine and President Clinton's Treasury Secretary, Robert Rubin. A few other Goldman alums have joined the Obama administration, including Gary Gensler, who chairs the Commodity Futures Trading Commission.
(Not that everyone at Goldman leans Democratic -- President George W. Bush's Treasury Secretary, Henry Paulson, also worked there.)
A Goldman spokeswoman noted that data includes contributions reported by former Goldman Sachs employees, and otherwise declined to comment on the campaign finance figures.
However, there are some financial firms still favoring Democrats.
JP Morgan Chase (JPM, Fortune 500) is still giving more to Democrats - about 52%, or $545,000 of the $1 million they've spent so far. And the Credit Union National Association has supported Democrats to the tune of $1 million, or 56% of the $1.8 million they've spent so far.