Dollar slides to 15-year low against yen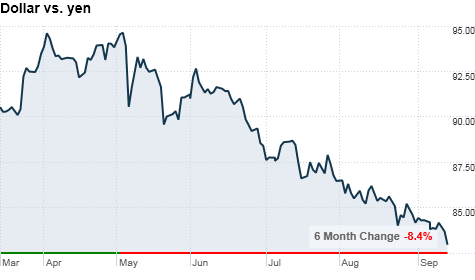 NEW YORK (CNNMoney.com) -- The dollar sank to a fresh 15-year low against the yen Tuesday, after Japanese Prime Minister Naoto Kan, who has been reluctant to intervene in the market to curb the Japanese currency's rise, fended off a leadership challenge.
"The reelection of Kan means that the risk of Japanese intervention is off the table for now," said Boris Schlossberg, director of currency research at GFT Forex. "Investors will drive the dollar lower to test the government, and may just twist its hand so it has no choice but to intervene."
Investors have been looking for the Japanese government to jump in to limit the currency's rise, as a stronger yen can hurt profits at Japan's export businesses.
Kan defeated rival Ichiro Ozawa. Ozawa has been more vocal on plans to boost stimulus measures and weaken the yen, which has climbed nearly 12% against the dollar since early May
The dollar fell as much as 0.8% to ¥83.07 overnight. It recouped some losses after a better-than-expected report on U.S. retail sales eased fears about an economic slowdown, but remained 0.4% lower at ¥83.40 in morning trade.
Meanwhile, the dollar slipped below parity versus the Swiss franc, allowing the Swiss currency to climb to its highest level versus the greenback since December 2009.
"There's been some talk that the Swiss National Bank will raise its key interest rate Thursday at its monetary policy meeting, so there is massive speculative momentum lined up against the dollar," Schlossberg said.
That led to a broad sell-off of the buck, which was down 0.5% against the euro and 0.3% against the British pound.
Schlossberg believes investors will refocus on the economy which could help the dollar stabilize.
"U.S. economic data remains key, and figures that show the economy is slowing but is far from spiraling into another recession will be friendly toward the dollar," he said.