Bankrupt, USA: Why our cities aren't too big to fail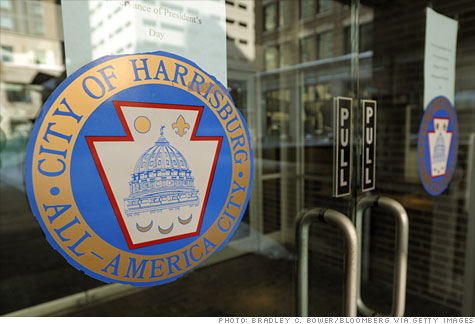 FORTUNE -- Harrisburg, Pennsylvania, has dodged a debt bullet. The only problem is that the gun is still loaded.
The Keystone State's cash-strapped capital was scheduled to default on a $3.3 million bond payment on Wednesday. It avoided that debilitating fate when Pennsylvania's governor, Ed Rendell, pledged to resolve the problem with $4.4 million from the state's own challenged coffers.
This gives Harrisburg a chance to fight again another day. But its problems are far from over, and that's bad news for investors in the $2.8 trillion muni-bond market.
States from California to Illinois have been in deep crisis since the recession began, hammered by drastic cuts in tax revenue and inflexible spending demands for things like health care, debt service and pension plans. Forty-eight states grappled with fiscal shortfalls in their 2010 fiscal budgets. Totaling $200 billion, or 30% of state budgets, this fiscal shortfall is the largest gap on record, according to the DC-based Center on Budget and Policy Priorities, which sees at least 46 states facing shortfalls this fiscal year.
Some cities are in even worse shape than Harrisburg. Central Falls, Rhode Island, recently went into receivership when it couldn't pay its bills. San Diego is said to be considering bankruptcy to get out from under its pension obligations. Miami's city council, hoping to avoid Harrisburg's fate, recently used emergency powers to slash city salaries and pensions and is now instituting hefty traffic fines and garbage fees. This year, ratings agencies have cut the debt in several cities -- including Littlefield, Tex., Detroit, Mich. and Bell, Calif. -- to junk.
Harrisburg's default on bond payments for its ill-fated $288 million incinerator project would have given it the dubious distinction of birthing the second-largest default on general-obligation municipal bonds this year. The largest default was on $227 in municipal warrants issued by Jefferson County, Alabama. Given that general obligation bonds are backed by the full faith -- and taxing power -- of the issuing government, and aren't supposed to default, even the hint of strain with such a bond is worrisome.
Buffett's prediction: Stiffing creditors
The growing perceived risk has sent a few municipal bond buyers in search of safer pastures. Warren Buffett's Berkshire Hathaway (BRK-A), which doubled its municipal bond holdings as investors fled the sector between June 2008 and March 2009, was more recently selling its municipal bond investments and moving to shorter maturities. The reversal followed Buffett's February 2009 investor's letter, where he noted that city councils were much more likely to skin bond insurers and bond investors than their own constituents.
He said the trend will begin when "a few communities stiff their creditors and get away with it." His municipal bond insurer, Berkshire Hathaway Assurance Corporation, also quickly pulled back from the market that year, insuring less than 8% of the $600 million in municipal bonds it guaranteed in 2008.
The problem, he told the US Financial Crisis Inquiry Commission this June, is that nobody really knows what state and major city municipal bonds are worth. Calling the municipal debt market "troubled," he opined: "If the federal government will step into help them, they're triple-A. If the federal government won't step in to help them, who knows what they are?"
Many participants in the municipal bond market, which is made up of more than 50,000 different issuers and more than 1.5 million issues, see concerns like those voiced by Buffett as overblown. After all, most states are likely "too big to fail" in the federal government's eyes. And, no matter how you slice it, defaults have remained exceedingly rare over the last thirty years.
According to Moody's, the ten-year default rate for investment-grade municipal bonds in recent decades has hovered around six-tenths of a percent. Dominic Frederico, the CEO of Assured Guaranty (AGO), a bond insurer, told attendees at an investment conference last week he calculates there have been only 60 municipal bond defaults through August 2 and that most of these defaults were not investment grade. The numbers, he said, show no evidence of a crisis at hand.
Defaults on the rise
That's just the sort of data that has kept a multitude of yield-hungry and tax-averse investors flocking to the sector. In August, investors plowed more than $1.2 billion a week into municipal bond funds. They invested a record $69 billion in new money there in 2009, up from just $7.8 billion in 2008 according to the Investment Company Institute. High-yield --or "junk" -- bonds have been exceedingly popular too.
But defaults on municipal debt have been rising, according to the Distressed Debt Securities newsletter, which says defaults rose from $349 million in 2007 to $7.77 billion in 2008. They have breached $4 billion so far this year, according to Bloomberg, despite heavy stimulus injections and other dollops of federal aid. Also, while AAA-rated bonds rarely go down the drain, the more speculative grades don't always stand up so well, with bonds rated B to C having ten-year cumulative default rates of 11% to 13% even in good times.
Municipal bond defaults could continue to rise even if the economy gains a footing. According to the US Government Accountability Office, despite the federal help, state and local governments continue to operate in the red. Without massive austerity, the GAO predicts their fiscal positions will continue to worsen for the next fifty years.
The problem is that the vast majority of municipal bond investors these days tend to be of the mom and pop variety and they are not generally being compensated much for risk. As Bond Buyer notes, heavy investor demand last month pushed "10-year tax-exempt yields below 2.20% and 30-year munis lower than 3.70% for the first time in history."
Despite the Pollyannaish view expressed by such a yield, critics fear that you don't need another Panic of 1873 -- when ten states, including Alabama, Arkansas, Tennessee, Michigan and Minnesota, defaulted on their municipal debts -- to seize up the system.
Drop dead
Perhaps not even something like the famed default of New York City during the Gerald Ford administration in 1975 would be needed to instigate a panic. Rapidly rising interest rates would be enough to wipe the smile off many retail investors in muni-bond funds. A few smaller but well-known municipalities threatening default could send them fleeing for crowded exits.
And crowded they would be. Despite the liquidity of municipal bond mutual funds and ETFs, their underlying bond holdings trade far less often. The "new normal" hasn't helped matters, noted bond giant Pimco this January, explaining that many of the major broker dealers in the municipal space -- Bear Sterns and Lehman Brothers for instance -- are no longer with us, while many of the major liquidity providers there, such as single strategy municipal hedge funds, "collapsed or were shut down."
Nor is a wave of defaults off the table just because they have not occurred in recent decades. Before the housing downturn, real-estate bulls saw housing prices laddering to the sky and often noted that real-estate prices had never declined nationwide -- until they finally did.
As Richard Bookstaber, the senior policy advisor at the Securities and Exchange Commission wrote in a blog post this April, the municipal market is massive, leveraged and opaque, blessed by questionable analyst ratings and backed by revenues already mortgaged off to someone else.
In other words, it bears all the hallmarks of a crisis in waiting.