Japan tries to rein in rising yen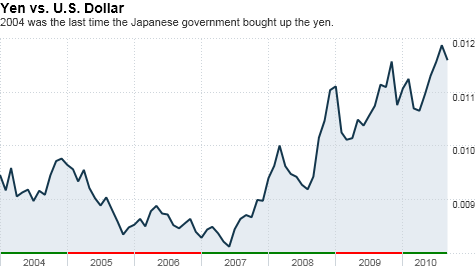 NEW YORK (CNNMoney.com) -- The Japanese government has decided to intervene in the currency markets in an effort to rein in its skyrocketing yen. In a somewhat rare move, Japan's Ministry of Finance announced that it would sell yen and buy U.S. dollars.
That had an immediate impact on the dollar. It gained about 3% against the Japanese currency on Wednesday. That comes one day after the greenback sank to a fresh 15-year low against the yen.
It remains to be seen whether Tokyo can actually control the yen over the long-term though. Damon Vickers, managing director at Nine Points Management & Research, a hedge fund in Seattle, said that governments have a spotty history of success when they impose their weight on the currency markets.
"In spite of intervention, the forces driving the yen higher are likely stronger than the government," said Vickers, in an e-mail to CNNMoney.com.
The yen's dramatic rise has been a major problem for Japan as many Japanese companies, such as Toyota (TM) and Sony (SNE), rely heavily on exports.
"Japan doesn't want a higher yen as it will make their exports more expensive, crimping growth, sales, earnings and the population's employment," Vickers said.
Dean Popplewell, chief currency strategist for Oanda, a Toronto-based online trading platform, called the Japanese intervention a "zero sum game of profitability for exporters" in an "export-dominated society."
"The rumor in the market is that they've spent about 17 billion yen [buying U.S. dollars,]" he said.
This could be an expensive undertaking for the Japanese government. Popplewell said the last time the Japanese government intervened in such a way, back in 2004, it spent about 100 billion yen buying up U.S. dollars.
"The Bank of Japan will actually have to spend oodles to deflate their own currency," he said. "Will the momentum of the weakening of the yen be sustainable? There will be a time the market will want to take on the Bank of Japan, to see how serious they are in [deflating] their currency."