Poverty in the U.S. spikes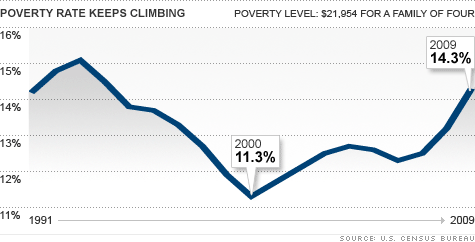 NEW YORK (CNNMoney.com) -- The nation's poverty rate jumped to 14.3% in 2009, its highest level since 1994, and the 43.6 million Americans in need is the highest number in 51 years of record-keeping, the government said Thursday.
The Office of Management and Budget defined the poverty threshold level as less than $21,954 for a family of four in 2009 and $10,956 for an individual. The poverty rate increased for all racial groups except Asians.
The jump, reported as part of a regular annual Census Bureau report on income, poverty and health insurance, was not unexpected. The U.S. economy went through a very rough 2009.
"The Census Bureau released data that illustrates just how tough 2009 was, " President Obama said in a statement.
"Even before the recession hit, middle class incomes had been stagnant and the number of people living in poverty in America was unacceptably high, and today's numbers make it clear that our work is just beginning," the president added.
Many Americans lost their jobs during 2009. The unemployment rate jumped from 7.7% at the beginning of the year to 10.1% by October, before inching down to 10% the rest of the year.
Poverty increased less than many experts were projecting beforehand. David Johnson, chief of the bureau's Housing and Household Economic Statistics Division, said that the rate would have been higher except that it declined substantially for elderly Americans, falling to 8.9% from 9.7%.
He also said increases in employment benefits brought many people out of poverty.
The income used to calculate poverty status includes earnings, workman's compensation, unemployment insurance, Social Security, veteran's payments, pensions, interest and dividends, and just about every other source of cash.
It does not, however, include capital gains, so, theoretically, millionaires could qualify as poor if they lived solely by selling off investments.
Non-cash benefits, such as food stamps or subsidized rents, also do not count as income.
Poverty is expected to continue climbing, reaching a high of about 16%, over the next decade, according to an analysis by Isabel Sawhill and Emily Monea of the Brookings Institution, the Washington-based think-tank. The researchers say that, as a result, another 10 million Americans - including 6 million children - will be in poverty.
"The recession makes finding jobs very difficult and has hit low-income families especially hard," said Sawhill.
The Census report said that the poverty rate for children under age 18 grew faster in 2009 than it did for the population as a whole, increasing 1.7 percentage points to 20.7%.
Regionally, the South was the poorest area of the country, with a rate of 15.7%. It also experienced the biggest jump in poverty, 1.4 percentage points from 14.3% in 2008.
The West had a poverty rate of 14.8%, the Midwest rate was 13.3% and the Northeast rate was 12.2%.
Mississippi is the poorest state in the nation with an average of 20.6% of the population earning less than the threshold rate over the past two years. Arizona, at 19.6%, and New Mexico, at 19.3%, also recorded much higher poverty than the national average.
New Hampshire, at 7.3%, had the lowest percentage of poor residents with Connecticut, at 8.3%, and Utah, at 8.6%, also scoring well.
The state comparisons may not be very fair, according to Sawhill. They make no provisions for differences in living costs. Groceries, housing, prpoerty and sales taxes and lots of other costs can vary greatly.
"I think we need to revise the poverty measure to take into account regional cost differences," she said.
Census seems to agree. It announced an initiative to work with other agencies to develop a supplemental poverty measure that will incorporate non-cash factors, as well as cost of living differences, to better describe economic well-being. The new gauge will not replace the poverty report.
The government also said the number of Americans with health coverage dropped for the first time since record-keeping began in 1987. (more on Census health care data)