96 billion burger combos -- tweet yours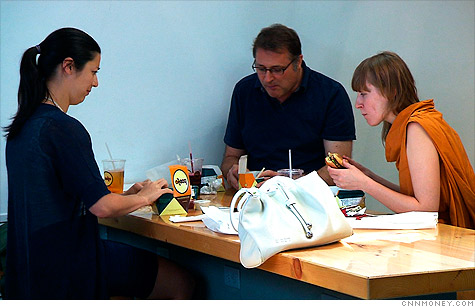 NEW YORK (CNNMoney.com) -- If your social network ran a restaurant, it might feel a lot like 4food, a new Manhattan burger joint.
Customers who step into the restaurant are met by staffers ready to take orders on their iPads, a 240-foot screen featuring live Twitter feeds and Foursquare check-ins, and a menu that offers more than 96 billion customizable burger options. (Doubt the numbers? Check our math.)
4food is relying on social networking -- fueled by a grab bag of of-the-zeitgeist gimmicks -- to break through in New York's crowded food scene. CEO Adam Kidron's gamble is that throwing a chunk of his marketing costs into customers' hands (or, more accurately, their mobile phones) will pay off.
"The idea is we'll save somewhere between 8% to 10% of our gross sales, and that we'll be able to spend that on better ingredients," Kidron says. "We've taken a gamble by spending it on the better ingredients in the beginning, so the social media has to work."
4food's menu is targeted at the "I want it my way" set. Burgers come with holes in the middle, which customers can fill with "scoops" ranging from mushrooms to edamame. Eight patties (including egg, beef, lamb and salmon), seven cheese options and a dozen condiments expand the customization options.
Once customers have designed their ideal burger, they're encouraged to advertise it through sites like Twitter and Facebook. Marketing prowess pays off: Every time a custom burger is ordered, the creator gets a 25-cent credit towards their next meal. Constantly updated leaderboards spotlight the current champs.
It's a concept Kidron hopes can launch a whole chain of 4food outposts.
"A very essential part of 4Food is that you will be so impressed and so proud of the burger you made that you'll tell some other people about it. Now people do that," Kidron says. "The question is whether they'll use these tools."
If the restaurant's opening days are any indication, people are very willing to use them -- the challenge will be keeping up. The restaurant's second day in business was a "complete mess," popular New York food blog Midtown Eats declared: "Reports have been pouring in all day complaining of long waits, restless crowds, and empty bellys."
But like any savvy startup, 4food recognizes that glitches are inevitable (hey, even Chase.com can crash) and attentive customer service is a tonic. Its Twitter stream this week is filled with personal apologies for problems -- "uh oh! Fixed :)" -- and retweets from happy customers.