Elizabeth Warren is ready to start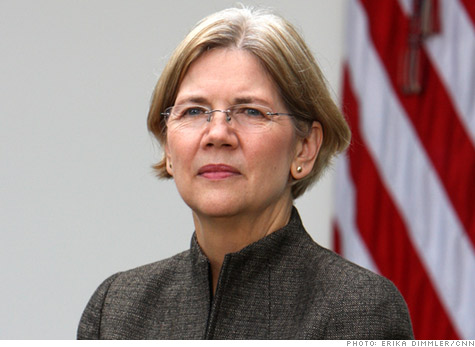 NEW YORK (CNNMoney.com) -- Elizabeth Warren told CNN's John King on Friday that she is eager to begin setting up the nation's first consumer financial protection bureau, but she stopped short of confirming that she will eventually be put in charge of the agency that was her brainchild.
President Obama appointed Warren earlier that day to be a special adviser in charge of building the Consumer Financial Protection Bureau that was a key part of the Wall Street reform bill the president signed into law in July.
In an interview with King on CNN, Warren said she wants to start work as soon as possible.
"I want to worry about Monday," she said. "I want to worry about this week and the week after, about getting this thing started."
But Warren could not say where she would be after the agency is up and running in July 2011.
"Where we are in three months is something I'm not -- I'm not clear about," she said. "I know the direction I want to go, but I'm sure not clear where we're going to be in a year."
Warren's appointment does not mean that she will be the official director of the bureau once it's up and running, but she will have say in who gets the job, Obama said Friday.
Responding to criticism that her appointment circumvents the Senate confirmation process, Warren told King that statutes in the financial reform bill allow for her to begin work before being confirmed in order to avoid delays.
"The statute is clear," she said. "It actually is structured to say get going on the agency now, and when you can go through the confirmation process and get somebody confirmed then it will be the time to ... hand it from Treasury over to the new agency independently."
Warren also responded to criticisms that she is overly liberal and unfriendly to the banking industry.
"There are some bankers who like me," she said. "People who want to put out good, simple products that folks can understand and understand the price, understand what the risks are, exercise their own personal responsibility about whether or not they want to do it."
--CNNMoney.com senior writer Jennifer Liberto contributed to this report.