Consumer bureau: More disclosure, fewer hidden fees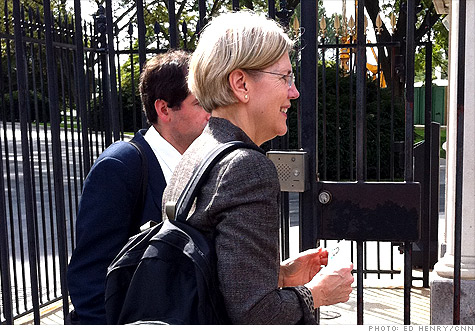 WASHINGTON (CNNMoney.com) -- With Elizabeth Warren as an adviser, the new Consumer Financial Protection Bureau is officially en route to becoming a tough new regulatory body on behalf of consumers.
The set-up process is expected to take 10 months, with an official launch date of July 21, 2011, according to the Treasury Department.
What can consumers ultimately expect? More disclosures and fewer hidden fees.
"The time for hiding tricks and traps in the fine print is over," Warren said on the White House Website.
The Consumer Financial Protection Bureau was the signature piece of the Wall Street reform bill that Congress passed and the president signed into law in July.
The new regulatory bureau will be independent. It will have the power to create rules curbing unfair practices in mortgages, credit cards and a plethora of consumer loans issued by banks and payday lenders, private student loan lenders and check cashing companies.
"Financial innovation has not resulted in simpler, better products, it's resulted in more complicated products," says Ed Mierzwinski, consumer program director for the U.S. Public Interest Research Group. "Consumers are going to know that there's someone who's got their back and help them wade through the financial morass."
The agency has already hired 36 staffers and has a hearing scheduled Tuesday, soliciting expert opinion on creating a simplified mortgage disclosure firm, which the new law requires, said Treasury spokesman Steven Adamske.
Here are some of the things that the bureau is slated to tackle when it gets set up.
Simpler mortgage disclosure forms: The new law requires the agency to set up a standard type of mortgage disclosure form. Lenders won't be required to offer the form, but they may have incentives to use the simpler forms.
Overdraft fees: The regulator will have the power to craft new rules that would make it clear what kinds of fees banks can and can't slap on consumers who overdraw their accounts.
Credit scores: All consumers have been able to get one free credit report a year from the credit rating agencies. But the law allows a consumer to get an actual credit score along with a report, and the agency will oversee that.
Ban on 'liar loans': The regulator would be charged with ensuring lenders are documenting borrowers' income before originating a mortgage and verify a borrower's ability to repay the loan.
Pre-payment penalty fees: The law requires the consumer bureau to crack down on penalty fees consumers often face when they pay off mortgages early.
Mandatory arbitration contracts: Many mortgages, credit cards, gift cards and auto loans force the buyer and seller to hash out disputes before a neutral party called an arbitration panel. These arbitration contracts prevent disputes from going to court, with an eye toward forcing parties to work things out and cut down on lawsuits. The act directs the agency to study the contracts while giving it power to ban them as well.