GM looks at electric-only Volt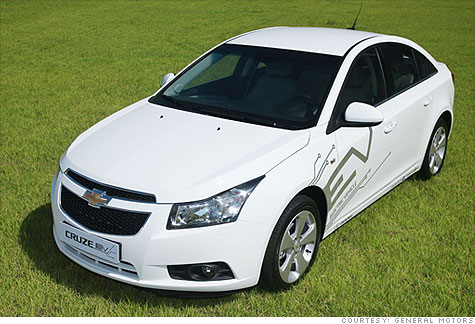 NEW YORK (CNNMoney.com) -- General Motors is building an experimental fleet of electrically powered Chevrolet Cruze compact cars that will have a driving range of up to 100 miles without using any gasoline.
Unlike the Chevrolet Volt, which GM plans to sell in the United States beginning in November, these cars will be purely electric with no gasoline engine for long-range driving. The Cruze and the Volt are closely related vehicles.
"This Cruze EV demonstration project reinforces GM's commitment to being a leader in the development of electric vehicles and green technologies, building on our portfolio of hybrids and the Chevrolet Volt," Karl Stracke, GM's vice president for global vehicle engineering, said in a statement.
The initial demonstration cars are being built by GM Daewoo, GM's South Korean arm, in cooperation with LG Chem, the company that supplies battery packs for the Chevrolet Volt.
The first cars will be tested in South Korea beginning in late October, GM said in a statement. Similar vehicles will built and tested with other partners in other parts of the world later this year.
Range-extended vs. gasoline-free
Once charged, the Chevrolet Volt, a version of the Cruze that GM calls a "range-extended electric vehicle," can drive up to 40 miles on electric power before a gasoline engine turns on to generate electricity for over 300 miles of driving driving.
Other automakers, including Nissan and Ford, will compete against the Volt with electric cars that can drive as much 100 miles before recharging but which have no gasoline engines. Those cars must be plugged in and recharged before they can drive farther. GM's experimental electric Cruzes will be functionally similar to these cars.
GM has touted the Volt's "range-extended" system as superior because it offers enough gasoline-free electric driving range to cover most Americans' daily needs -- the vast majority drive less than 40 miles on a typical day -- while providing the long range of a gasoline-powered car when needed.
However, critics have called the Volt a less environmentally sensitive solution because it still has a gasoline engine.
"We had expected GM to launch an all-electric vehicle by 2012 or 2013," said Michael Omotoso, manager of global powertrain forecasting for the market research firm J.D. Power and Associates.'
GM could use an all-electric Volt for two reasons, said Jesse Toprak, an analyst with the automotive Web site Truecar.com.
First, as technology improves, pure electric cars will have longer driving ranges and shorter charging times, making them more viable as daily transportation. When that happens, said Toprak, GM will want to have a fully developed product ready to sell.
Second, even though the Volt can be driven using electricity alone for days or weeks at a time with a daily recharge, there's great public relations value in an electric-only car, Toprak said - even if it's less practical.
"The reality is it's more difficult to explain the extended-range concept," he said.
The Volt is often misunderstood by consumers and the media, Omotoso said, who think of it as a plug-in hybrid. With virtually every other major automaker planning an all-electric car, GM faced the possibility that it might be perceived as less "green" than other automakers.
On a standard 220-volt household outlet GM's experimental electric cars can be fully recharged in about 8 to 10 hours, GM said in an announcement. The cars can go from zero to 60 miles in about 8.2 seconds, GM said, which makes them quicker than the Chevrolet Volt.
GM engineers have, in the past, hinted at the possibility of an electric-only Volt saying that it would be a relatively easy matter to remove the gasoline engine and add more battery power.