Obama defends economic record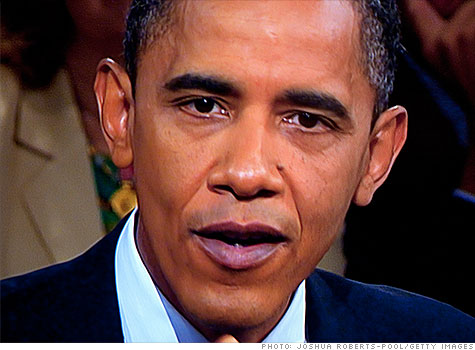 NEW YORK (CNNMoney.com) -- President Obama said Monday that his economic policies helped prevent a depression, although he acknowledged that many Americans are still struggling.
In a town hall meeting sponsored by the CNBC cable network, Obama responded to questions from unemployed workers, recent college graduates, small business owners and one prominent hedge fund manager. He sought to reassure middle class families that the American dream is still attainable, while at the same time rebutting criticism that he is anti-business.
The meeting came on the same day that the National Bureau of Economic Research said the Great Recession, which began in December 2007, officially ended in June 2009. However, economists are debating whether the U.S. economy is headed for another downturn, a so-called double-dip recession.
Obama, who was sworn in as president in January 2009, said the steps his administration took early on helped stabilize the economy and prevent a repeat of the Great Depression. But he acknowledged that the recession "is still very real" from millions of unemployed Americans and those hurt by the foreclosure crisis.
"A lot of people are still hurting," he said. "The question then becomes: what can we put in place so that the trend lines continue in the positive direction."
He said he understands that Americans are frustrated with the slow pace of the recovery and lack of jobs. But he stressed that his policies are designed to help middle-class families climb the economic ladder by making education more affordable, reducing the cost of health care and supporting home ownership.
In response to criticism that he has "vilified" Wall Street, Obama said that his economic policies are aimed at protecting consumers from abusive practices and are designed to help safeguard the financial system from future meltdowns.
"These are modest reforms that make the free market work better for businesses and consumers," he said, referring to the Wall Street reform bill the president signed into law in July.
Obama said he is "pro-business," pointing to tax cuts he has proposed for small businesses and measures to help promote research and development.
"We all benefit from entrepreneurs and innovators who are going out there and creating jobs," he said. "We want to get out of the way of folks that have got a good idea and want to run with it."
But Obama reiterated that he is opposed to renewing tax cuts for high-income taxpayers. He said extending the so-called Bush tax cuts, for those making more than $250,000 a year, would be "irresponsible."
Extending tax cuts for wealthy taxpayers would not help the economy, Obama said, because they are less likely to spend the extra money. Lower-income taxpayers, however, have suffered declining wages for decades and are more deserving of tax relief, the president added.
In addition, he said reducing taxes for the wealthy will make it harder to repay the national deficit.
Obama said he has limited discretion over the biggest aspects of the budget, including Social Security and Medicare. But he said his administration has identified billions of dollars in spending and tax loopholes that can be eliminated in the 2011 budget.
"We have to make sure that the amount of money we're taking and the amount that's going out match up," he said.