Risk of double-dip recession: Unlikely, but rising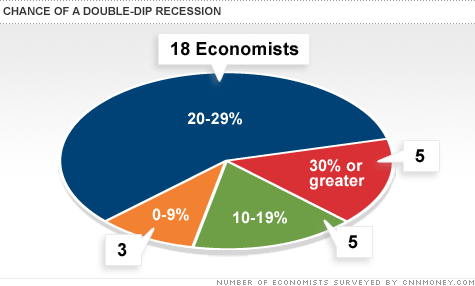 NEW YORK (CNNMoney.com) -- Will the United States slip back into recession? Not likely.
While the risk of the U.S. economy falling into a double-dip recession is rising, there is only about a one-in-four chance of that happening, according to a CNNMoney.com survey of top economists.
But even if the nation avoids another recession, economists are in broad agreement that the current economic pain -- high unemployment, weak growth, little improvement in home values -- isn't going away anytime soon.
The survey of 31 economists, compiled this month, shows that the chance of another downturn in the next year is around 25%, according to a median consensus. That's up significantly from about a 15% risk six months ago.
Nearly two thirds of those surveyed agree the chance of a double-dip recession has risen since the start of the year. Only three believe there is less risk than there was in the spring. Nine of the economists surveyed left their forecasts unchanged.
"We have been talking about ongoing fundamental weakness and the possibility of a double-dip for at least nine months," said Bill Watkins, executive director of the Center for Economic Research and Forecasting, who puts the risk at 25%, as he did six months ago.
Three of the more bearish economists put the risk of a double-dip as high as 40%.
"There are more and more indications that we have the potential for a double dip," said Kevin Giddis, managing director of fixed income at Morgan Keegan.
"Consumers are totally retrenched," Giddis said. "They're concerned about jobs, uncertain about taxes and not sure the administration has a handle on what to do. Businesses are finding that it's better to clean up their balance sheets than it is to hire people."
Not everyone is so pessimistic. Another two economists put the risk at only 5% and a third sees no chance of a double-dip recession at all.
Michael Niemira, chief economist with the International Council of Shopping Centers, said it is unrealistic to expect a surge in consumer spending to lead the economy following the recession since that's not what typically happens. He said strong business profits and low interest rates are more important building blocks of growth and both of those factors are firmly in place.
"The story of business cycles for the last 30 years is that corporate profits come back, then businesses spend on equipment, then hiring," he said. "The wherewithal is there for the economy to continue to recover. Don't bet against this economy."
On Monday, the National Bureau of Economic Research, an independent group of economists charged with dating when recessions begin and end, declared that the Great Recession that started in December 2007 came to an end in June 2009.
But the stronger economic growth that began late last year has started to sputter in recent months. Hiring has slowed, as has consumer spending.
The statement released by the NBER acknowledged that the recovery remains weak, and that another downturn is possible. "Any future downturn of the economy would be a new recession and not a continuation of the recession."

Double-dip recessions are relatively rare in U.S. history. The last one occurred nearly 30 years ago, when the recession of 1980 was quickly followed by an even deeper downturn of 1981-82.