Madison Avenue warms up to electric cars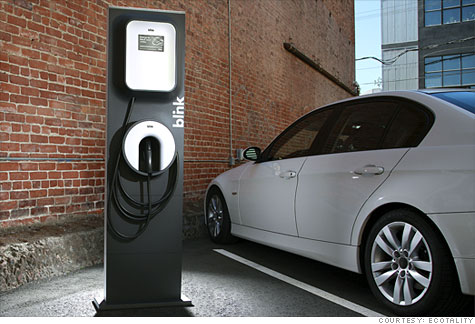 FORTUNE -- As you drive your electric car into the mall's garage, the GPS spots an open charging station. You plug in your car and slide your credit card through the unit, which looks like a parking meter on steroids. A color LCD screen shows the battery is one-third empty, and then the station, which is linked to the web and therefore knows you like shoes, displays an ad for Bruno Maglis on sale at Nordstrom. You glance at the pitch before beginning your shopping spree.
This is just one of the big schemes out there to make the economics of electric cars work. Starting this fall, you will see electric cars from GM, Nissan (NSANF), Daimler's Smart Car division, and others rolling through your neighborhood. The question is, Where will customers charge those cars and who will pay for the infrastructure? Today the U.S. has only about 1,000 chargers. The Obama administration has allocated $400 million in grants to kick-start this nascent industry. By the end of next year some 30,000 charging stations will be built.
Subsidies are one thing, but will charging stations ever pay for themselves? Big players like GE (GE, Fortune 500) and startups such as ECOtality of San Francisco are experimenting with business models for this emerging technology, potentially a multibillion-dollar market. The problem is that it's very cheap to fill up an electric car -- the electricity costs the equivalent of about $1 a gallon. You can fill up a car like the Nissan Leaf, which has a range of about 100 miles, for $1.60. Paltry revenues from selling electricity just won't cover the high cost of the chargers. Typically chargers in public spaces range from $3,000 to $7,000 and need eight hours to fully charge a car.
Why not make charging stations a valuable media platform? Jonathan Read, CEO of ECOtality, which has raised $230 million from the Department of Energy and private sources to install 15,000 chargers by the end of 2011, says a retailer could install the chargers in the parking lot and use the screens to flash ads and offer electronic coupons. Traditional gas stations already have monitors on the pump. The advantage to electric stations is that merchants can target a customer just as he's about to shop. Store owners and ECOtality share the ad revenue.
"This could be huge," says Benjamin Crawford, a senior account manager at Arbitron, which advises Madison Avenue. National advertisers, however, want millions of eyeballs, and for now at least, electrics remain a niche market. That doesn't bother ECOtality's Read. "We'll know who you are, where you are. It will become an extremely valuable network."