New home construction surges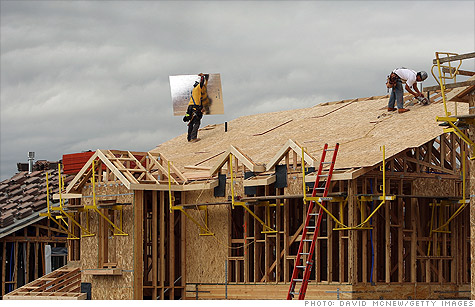 NEW YORK (CNNMoney.com) -- New home construction surged to the highest level in four months in August, a government report showed Tuesday.
Housing starts, or the number of new homes being built, jumped 10.5% to a seasonally adjusted annual rate of 598,000 in August from a revised 541,000 in July, the Commerce Department said.
Economists were expecting a rate of 550,000 housing starts, according to a consensus estimate from Briefing.com.
The number of new homes being built in August was up 2.2% from a year ago.
"This is a step in the right direction, but you have to remember that we're still hovering around all-time lows," said Kevin Smith, a senior vice president at Chapdelaine Credit Partners. "It's clear that we're far from being out of the woods."
Despite the monthly rise, it's too early to look at this as a positive trend for the housing market until more jobs are created, he said.
"People who don't have jobs aren't buying homes," Smith said. "You have to have job creation to see housing improve, and people need to actually have the confidence that they are going to keep that job for a year or two."
New homes by sector: New construction of single-family homes, the key sector of the housing market, rose 4.3% over the month to an annual rate of 438,000.
The annual rate for new construction of multi-family homes - buildings with 5 or more units - surged 32% to 147,000.
Because multi-family housing starts tend to fluctuate significantly month to month, the overall housing starts number for August may have been skewed by this spike in multi-family homes, said Smith.
"They're up a big amount for the month, but the number might be half that next month," he said. "Looking at the overall market, the single family number is the more applicable number."
Building plans: Permits for future construction rose to a seasonally adjusted annual rate of 569,000 last month, up 1.8% from July and the highest level in two months. Economists were expecting 560,000 permits in August.
Despite the monthly gain, permits were down 6.7% from the same time last year.
"These aren't good enough numbers to indicate that this whole crash is behind us," said Smith. "Supposedly the recession is over and has been for several months, but the key is job creation, so unless we have that, I don't think there's going to be a big recovery any time soon."