Adobe stock plummets 20%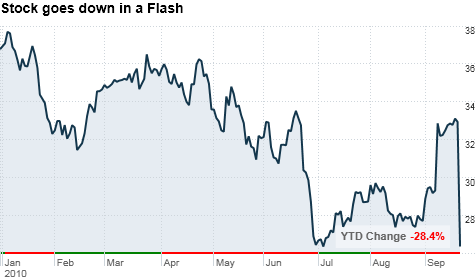 NEW YORK (CNNMoney.com) -- Shares of Adobe Systems plummeted Wednesday after the software developer indicated that sales and earnings for its next quarter might fall short of expectations.
Adobe said late Tuesday that fourth-quarter profits, excluding one time items, would be in the range of 48 to 54 cents per share, while analysts were expecting 52 cents per share.
Shares of Adobe (ADBE) fell more than 20% from Tuesday's close and at one point hit $25.81, a new 52-week low.
David Hilal, an analyst at FBR Capital Markets, pointed to the disappointing performance of Adobe Creative Suite 5, a product grouping that includes Adobe Photoshop and Acrobat, as a reason for concern.
"The uncertainty of demand from these markets led management to provide lackluster guidance and makes us lower our expectations," Hilal wrote in an analysis, citing a lack of demand in both Japanese and domestic education markets.
But not every analyst is bearish on the stock.
"The Street is overly negative," said Jeff Gaggin, an analyst at Avian Securities who says he expects profits, excluding growth from any acquisitions, to increase more than 10% this year and next.
Gaggin said the downturn in software sales resulting from a weak education market in the U.S. and Japan --an industry Adobe relies heavily upon --shouldn't come as a surprise, given the slumping demand for personal computers.
Shares of Adobe had jumped higher earlier this month, following news that Apple (AAPL, Fortune 500) had loosened its grip on app development for its mobile devices and would drop restrictions on what programming tools developers can use to create iOS apps.
That move was expected to open the door for users to use tools from Apple's rivals -- most notably Adobe's Flash -- to build software for Apple's iPhones, iPads and iPods.
But Gaggin said Adobe's focus on Google's Android operating system might be the key to future growth, as a slew of Android-equipped phones are set to hit the market this year.
"I think if anything, it's the popularity of Android that actually favors Adobe ... success there could pressure Apple over time," Gaggin said.
He added that the steep drop in Adobe's share price may make the company more attractive to firms that might be eyeing it for a takeover -- such as Google (GOOG, Fortune 500).
"If you look at what Google is doing, they are going after Microsoft with Android against Windows, they are going into the browser arena with Chrome against Internet Explorer," he said. "I think that [an acquisition of Adobe] would make a lot of sense for Google."
Both Adobe and Google said they would not comment on speculation.
Trip Chowdhry, an analyst at Global Equities Research, dismissed the idea that Adobe is a takeover target. But he did think that corporate tech spending will pick up during the remainder of this year -- which should help Adobe.
"Budgets have opened, and all the companies, including Apple and Adobe, are going to be beneficiaries," Chowdhry said.