What deflation? Prices are rising!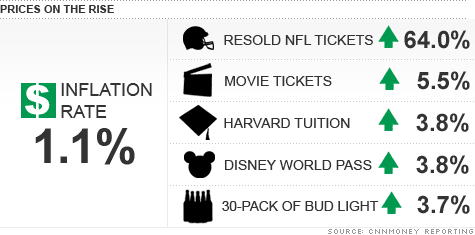 NEW YORK (CNNMoney.com) -- Deflation might be the economic buzzword right now, yet prices seem to be going up on everything from a cup of coffee to Dallas Cowboys tickets.
Nationwide, prices rose at a sluggish 1.1% pace over the last year, and economists say falling prices could be a concern going forward. But while deflation fears make headlines, prices for all sorts of consumer staples, luxury items and leisure activities are on the rise.
"I certainly don't see any deflation in my life whatsoever... I just keep seeing prices going up, and I'm a bargain hunter," said Terri Huggins of Brunswick, N.J.
Huggins used to commute to New York several times a month to pursue freelance jobs. But after New Jersey Transit hiked its fares by 25% earlier this year, she cut those trips in half.
She's not alone. Across the country, public transportation prices have gone up an average of 6.6% in the last year, according to the government's latest report on inflation. And the situation for drivers isn't much better; the price of gas has also risen -- about 7% -- to $2.72 per gallon.
While some major costs may be falling and keeping overall inflation low, many other costs of daily life are in fact becoming more expensive.
For example, sinking home prices have been dragging down the inflation rate, said Dean Baker, co-director and economist with the Center for Economic and Policy Research. But some basic costs of maintaining a home, like water, sewer and trash services, have risen 5.7% in the last year.
And that's not all.
Hospital bills are up 6.3%, and tuition and childcare are up 4.4%, according to the Consumer Price Index compiled by the Bureau of Labor Statistics.
Hoping to send your kid to Harvard? Last year, fees including room and board totaled $48,868. Now you'll pay $50,724 -- a 3.8% increase.
Even the cost of that morning cup o' joe is on the rise. Coffee futures on commodities exchanges surged more than 40% over the last six months, and brands like Folgers, Dunkin' Donuts and Millstone increased their prices for bagged coffee by 10%.
Starbucks (SBUX, Fortune 500) announced Wednesday that it will raise the price of "labor-intensive and larger-sized" beverages because of soaring prices of green arabica coffee beans.
And rising cotton prices, which surged to a 15-year high this year, could lead to more costly clothing. Consumers could see the price of the most basic t-shirt rise a couple bucks as early as Christmas.
Hoping to just get away from it all? Leisure is also getting pricier. Going on vacation is definitely more expensive, with some industry groups saying air fares have risen 17% in the last year.
And one popular domestic family getaway -- Disney World -- just raised its adult ticket price this month to $82, up 3.8% from $79 before.
Even activities like sporting events and movies are going up. NFL tickets sold on online fan-to-fan resale or auction sites rose 64% this year, according to ticket search engine FanSnap.
For the Super Bowl champion New Orleans Saints, home game tickets are selling for $404 on average, up a whopping 264% from last year. For the Dallas Cowboys, the increase was 35%.
Even enjoying the games at home can be tougher on the wallet these days. Anheuser-Busch InBev (BUD) recently raised prices in many markets throughout the country, with some local liquor stores reporting the price for a 30-pack of Bud Light as up a $1, or about 3.7% last month.
And the average movie ticket is 5.5% up from last year, coming in at around $7.91, according to the National Association of Theatre Owners.
Bargain shopper Huggins says rising prices have spurred her to cut down on some hobbies and activities too. She took a break from dance classes after the instructor raised fees for an 8-week session to $135 from $115, and has been doing less shopping for luxury items.
"A lot of places where I used to shop -- they're not really a bargain anymore," she said. "It just seems everything, everywhere is getting more expensive.

Did you get a factory job? Have you recently been hired in the manufacturing industry? Tell us about it and you could be featured in an upcoming story on CNNMoney.com.