Economy improving, but still hurting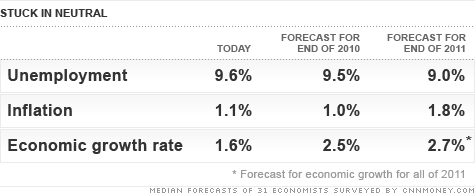 NEW YORK (CNNMoney.com) -- Even if the economy avoids falling into a double-dip recession, the next year will probably feel like one anyway, a CNNMoney.com survey of economists showed.
Unemployment is expected to remain high, according to the survey of 31 top economists. Their average forecast is for the rate to be at 9.5% -- only slightly lower than current levels.
And next year isn't looking much better. Unemployment is only expected to fall to about 9% by the end of 2011, the survey showed.
Overall economic growth is expected to be anemic at best. Economists' consensus forecast is for gross domestic product, the broadest measure of the economy, to grow only 1.9% in the third quarter and 2.5% during the last three months of 2010. Growth is expected to pick up to 2.7% in 2011.
But those forecasts are slower than the pace of growth from earlier this year, and below the historical average growth of 3.6% that typically takes place during a recovery.
And while a majority of the economists are predicting that home prices have bottomed, they are only expected to rise around 1% in the next 12 months. About one in five economists predict more price declines, and the same number project no growth at all.
Even the economists from the National Association of Realtors and the National Association of Home Builders only forecast a 1% increase in home prices over the next year.

Just two economists -- Dana Johnson of Comerica and Brian Wesbury of First Trust Advisors, forecast price increases greater than the 3.6% annual rise recorded by the Case Shiller index in its most recent reading.
The only bright spot for consumers is that overall retail prices are not likely to rise very much in the next year. Economists foresee inflation of only 1% this year and another 1.8% in 2011.
But while that might be good news for shoppers in the short term, economists are still worried about the long-term risk of deflation, or a downward spiral in prices, taking hold.

Deflation can cause companies, unable to sell their products at cost, to cut back on production and lay off workers. It can lead to prolonged economic pain, as in the case of Japan's "lost decade" of the 1990's.
Asked which posed the greater risk to the economy over the next five years, almost twice as many economists surveyed were concerned about persistent deflation than a return of inflation.
One thing that economists expect to become more expensive in the next year is debt. The yield on the benchmark 10-year Treasury note, currently at about 2.75%, is forecast to rise to 3.5%, with nearly a third of economists expecting it to jump above 4%.

That would raise the cost of borrowing not just for the U.S. Treasury but for a wide range of businesses and consumers, whose loan rates are driven by Treasury yields.
"Sooner or later [rates] will go up fast," said Bill Cheney, chief economist for Manulife Financial. "I don't claim to know exactly when or how much, but when it comes it will be a shock -- say [1 percentage point] in three months."