PIIGS roast: Euro debt fears return
NEW YORK (CNNMoney.com) -- Think the debt crisis in Europe is over? Think again.
Ireland's gross domestic product fell in the second quarter. Since Ireland is one of the I's in the so-called group of troubled PIIGS nations in Europe -- Portugal, Italy, Greece and Spain make up the rest of the club -- that is not good news.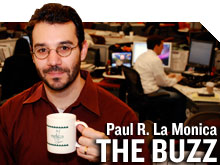 The Ireland GDP report, which was released Thursday, wasn't the only bit of troubling data from Europe either. A key index of European purchasing manager activity by research firm Markit fell sharply from August to September and was lower than what economists were expecting.
It just goes to show that the economic situation in Europe, much like the United States, is still tenuous. Sure, the worst may be over for Europe. It was an encouraging sign earlier in the week that Ireland and Spain had no trouble selling new bonds, for example.
But saying the worst is over is not the same thing as saying that a strong recovery has taken hold.
"Obviously there are some profound challenges in Ireland and other parts of Europe. They are not going away overnight. There should be no surprise here," said Axel Merk, president of Merk Mutual Funds, a Palo Alto, Calif.-based money manager specializing in currency investments.
But experts are divided about whether this may mean more turmoil for the global markets and economy ahead. Keep in mind that stocks took a beating this spring and early summer largely due to worries about sovereign debt in Europe.
Those fears sent the euro plunging to a 4-year low against the dollar of about $1.1875 in June. The euro has since rebounded and currently trades at around $1.33. But one expert said the euro may once again start to slide.
"I'm still bearish on the euro. The fiscal problems are going to resurface next year and growth is going to slow," said Vassili Serebriakov, a currency strategist with Wells Fargo in New York. "The euro will eventually go back to the lows of June and even below that. It's just a question of time."
He conceded that the drop in the euro did probably go too far too fast and that it may not be until the end of 2011 before the currency hits those lows again.
But Merk said the past few months have proven that despite many problems, the euro is not going to collapse. In fact, he thinks the crisis may be a blessing since it is causing European nations to finally confront their fiscal woes in a more serious manner.
"People like to bash Europe but the good thing is that the sense of urgency is not getting lost. Austerity measures are being implemented and governments are more worried about fiscal deficits," Merk said. "Writing off Europe may have been premature."
He even suggested that the euro should start to strengthen against the dollar and other currencies again -- even though the continent still faces many economic hurdles.
"You don't need to have strong growth to have a strong currency. That's a misconception. Japan has had lousy growth for two decades but the yen is reasonably strong," Merk said.
Mike O'Rourke, chief market strategist with BTIG, an institutional brokerage firm, agreed. He said that the market overreacted to the European credit woes earlier this year.
He called the sell-off in stocks and the euro an "echo panic" because people were jumping to the conclusion that Greece might be the sovereign debt equivalent of Lehman Brothers.
"The problems in Europe are real and will take time to fix. But it's not time to worry that much just because the problems are still there," O'Rourke said.
That may be true. But it might be a mistake to completely dismiss the impact renewed Europe fears could have on the global economy.
Several big multinational U.S. firms warned earlier this summer that their results will be hurt by slowing demand from Europe and exchange-rate fluctuations tied to the anemic euro.
So until it becomes more clear that the crisis is in fact over, Europe's debt problems may linger over the United States for some time.
- The opinions expressed in this commentary are solely those of Paul R. La Monica. Other than Time Warner, the parent of CNNMoney.com, and Abbott Laboratories, La Monica does not own positions in any individual stocks.