Bank fee Whac-a-Mole: New charges hit accounts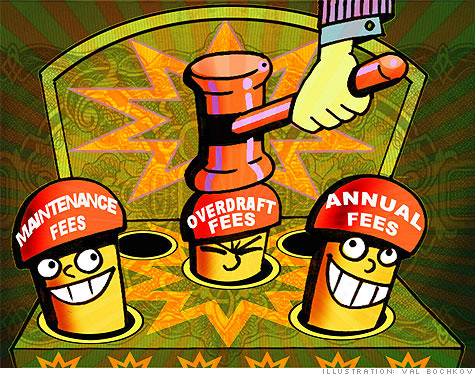 NEW YORK (CNNMoney.com) -- Bank fees: They're like a game of Whac-a-Mole. The minute one set is banned, a whole new set pops up.
In August, the Card Act banned a variety of fees -- including certain overdraft and excessive late charges. But one month later, banks are increasing existing fees and finding creative new ways to charge customers more for credit cards, so-called "free" checking accounts and banking services.
Already this year cash-advance fees and balance transfer fees have risen to 4%, up from 3% in July last year, according to a study conducted by the Pew Health Group's Safe Credit Cards Project.
"It's like you've got a sinking boat, where you plug one hole and another one springs up," said Curtis Arnold, founder of CreditRatings.com. "You can shut down one egregious fee, but that doesn't mean other fees aren't just going to start popping up elsewhere."
Here's a bank-by-bank look of what to expect.
Bank of America: Just last week, Bank of America said it plans to raise minimum balance requirements over the next 12 months and charge a monthly account fee for customers who can't maintain those balances.
"We currently estimate over time through these and other items we are working on that we will have the ability to offset a substantial majority of the revenue from the various regulatory changes," Bank of America (BAC, Fortune 500) CEO Brian Moynihan said in a presentation to investors last week.
Customers enrolled in the lender's new eBanking checking account will be charged $8.95 per month if they opt to receive paper statements and visit tellers instead of banking online. Since the launch of eBanking in August, nearly half of all new checking accounts fall into this category.
Earlier this year, annual fees ranging from $29 to $99 were applied to a variety of Bank of America credit card accounts.
Wells Fargo: Remember how Wells Fargo (WFC, Fortune 500) fought a pitched battle with Citigroup for the right to merge with Wachovia? Well, Wachovia customers are now being fully integrated -- including being charged Wells' higher fees. Receive images of cancelled checks with your paper statement? $2. Use your savings as overdraft protection? $10 fee every time you make a transfer.
Previously, these fees already existed for Wells Fargo customers but were only applied to a very small number of Wachovia customers.
HSBC: HSBC (HBC) is charging a $19 annual fee for customers who open a line of credit beginning July 1 and an additional $10 every day they use the credit line as protection from overdrawing their checking account.
"This is not unusual in the industry and our competitors have been charging similar such fees for some time," an HSBC spokesman said. "The change aligns us with our competitors."
Other banks let customers link their savings and checking accounts as an alternative option for overdraft protection. But HSBC doesn't, meaning customers will either pay a fee to open a line of credit (if they have good enough credit to qualify), pay a fee for overdrafting their account or get their card declined.
Citibank: Citi (C, Fortune 500) announced changes to its checking accounts this month and will now assess monthly maintenance fees of up to $30, depending on the checking account and whether the customers meet certain requirements -- such as making a certain number of monthly transactions or carrying a specific minimum balance.
Monthly maintenance fees were previously as low as $3, depending on the account.
Earlier this year, Citi imposed a $60 annual fee that could be waived if customers spent about $2,400 a year. But the new regulations banning inactivity fees led the bank to eliminate the fee soon after it was introduced.
American Express: American Express (AXP, Fortune 500) has added $29 fees to more of its cards. As of July, the new fees affect customers with Delta, JetBlue, Hilton and Starwood cobranded cards who want to recoup reward points they forfeited for paying a bill late.
The point-forfeiture fee already existed on other cards, so the bank said it wanted to be "consistent and have it across cards."
Not us!: JPMorgan Chase (JPM, Fortune 500) and Discover (DFS, Fortune 500) said they haven't introduced any new checking account or credit card fees in the past year.
Customers jumping ship
Because of how competitive the already cutthroat industry has become, banks have to be careful how far they go -- or they risk losing desperately-needed customers.
"They have to be really careful about rolling anything new out in this environment," said Peter Garucci, a spokesman for the American Banking Association. "They've always competed for the same number of wallets, but if the number of wallets is smaller because of the down economy and new rules, the competition is going to increase and the last thing they're going to want to do is make their customers mad."
Consumers should take advantage of this increased competition to negotiate fees with their banks.
"Fees especially are very much negotiable, so if you see something show up in your account that you don't like, call and complain, and threaten to take your business elsewhere," Arnold added. "Chances are if there's a fee or interest rate you don't like one place, you'll find something better somewhere else."