Consumers less confident. So?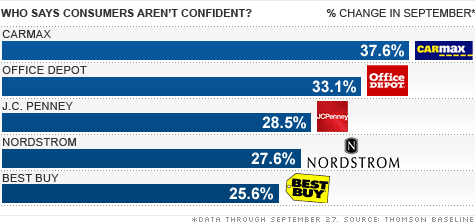 NEW YORK (CNNMoney.com) -- Consumer confidence apparently slumped in September. Really? Retail stocks are telling a different story.
The best performing stock in the S&P 500 so far this month is not some tech stock that's up on merger rumors or a gold miner soaring on the back of the yellow metal's rise to $1,300 an ounce. It's used car seller CarMax (KMX, Fortune 500).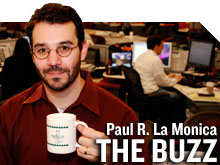 Department store J.C. Penney (JCP, Fortune 500), high-end retailer Nordstrom (JWN, Fortune 500) and e-commerce king Amazon.com (AMZN, Fortune 500) have also surged.
And several non-retailers that are up big also rely heavily on consumer spending, such as online travel site Expedia (EXPE) and cruise line operator Carnival (CCL). These stocks are all up more than 20% in September.
It may seem odd that retailers are doing this well considering Tuesday's dismal confidence report. But there's a funny thing about confidence. It's a touchy-feely number that has little predictive value. Who cares what consumers say when what matters more is what they actually do?
"Consumer confidence is a moving target. It's volatile month to month because it's shaped by current events and what happens now. Sentiment can change on the dime," said Ted Parrish, co-manager of the Henssler Equity fund in Kennesaw, Ga. His fund owns several retailers, including drug store chain Walgreen (WAG, Fortune 500), Costco (COST, Fortune 500), Lowe's (LOW, Fortune 500) and Wal-Mart (WMT, Fortune 500).
And for the retailers riding a hot streak, consumers' actions are speaking louder than their words. People may say they're wary but they're still spending. CarMax, for example, said last week that sales in its most recent quarter were up 13%. It even plans to add more stores next year due to rising demand.
CarMax isn't alone. Bed Bath & Beyond (BBBY, Fortune 500) recently raised its fiscal outlook. So did apparel retailers Talbots (TLB) and lululemon (LULU).
Parrish said that it's now widely known that consumers have been cutting back on debt in order to get their finances in order. The savings rate has risen during these rough economic times and credit card usage is down.
That could mean that consumers may feel a little more willing to splurge during the next few months.
"Consumers have spent the past year or so deleveraging. So they might be in a better position to spend in the fourth quarter with the holidays approaching," Parrish said.
Of course, not all retailers are going to enjoy solid sales and profits. Drew White, chief financial officer with Sageworks, a financial analysis firm in Raleigh, N.C., said that for many smaller retailers, the economic outlook still looks grim.
White said there's been a slight bump in sales for privately-held electronics, sporting goods and health and personal care retailers that his firm follows. But he said that for the most part, large publicly traded discounters like Wal-Mart and Target (TGT, Fortune 500) stand to benefit the most from any uptick in consumer spending.
"For many retailers, it isn't going to get a lot worse but it's not getting better quickly enough either," White said.
That makes sense. Consumers clearly have reason to be jittery and it does seem that many people are paying a lot more attention to how much they spend so they can make smart purchases.
That could help some retailers more than others. So making a bold bet on the consumer is probably a mistake -- especially after how much retail stocks have run up in the past few weeks.
Stephen Jones, co-manager of the Jones Villalta Opportunity fund in Austin, said that he likes The Gap (GPS, Fortune 500) and Home Depot (HD, Fortune 500), for example.
He thinks consumers may be looking to shop more at lower-priced clothing stores like The Gap's Old Navy. And Home Depot could benefit from the fact that fewer consumers are looking to buy new homes and would rather make lasting improvements to the place where they currently live.
"The economy isn't great but I'm cautiously optimistic people are still spending in some areas," Jones said. "You don't have to flee retailers and other consumer discretionary stocks. You just have to be in the right ones."
- The opinions expressed in this commentary are solely those of Paul R. La Monica. Other than Time Warner, the parent of CNNMoney.com, and Abbott Laboratories, La Monica does not own positions in any individual stocks.