Gates, Buffett say Chinese tycoon dinner a 'success'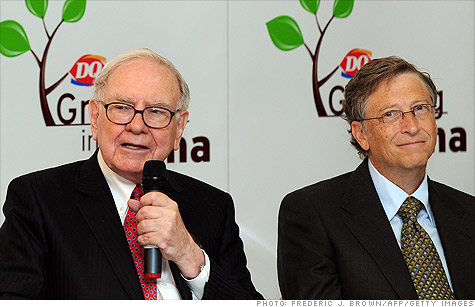 BEIJING, China (CNN) -- In the end, few Chinese tycoons could resist the rare opportunity to dine with Bill Gates and Warren Buffett, in a chateau-style resort on the outskirts of the capital.
Local media had earlier been abuzz over the story of more than half of the invited guests declining to join the American pair, out of fear of being pressured to make huge donation commitments.
The two industry titans-turned philanthropists called their first meeting, with 50 Chinese business leaders Wednesday evening to discuss charitable giving, a "complete success."
"We had a great event where over two out of three people we invited came," Gates, 54, co-founder of Microsoft, told a packed news conference Thursday.
"It was fantastic to see the energy and interest in philanthropy."
Gates and Buffett, 80, who heads the Berkshire Hathaway investment firm, have amassed fortunes worth $54 billion and $45 billion, respectively.
Forbes magazine recently ranked their net worth first and second among American billionaires, after Gates and Buffett persuaded 40 peers to follow their lead by pledging to give most personal wealth to charity.
The duo's successful philanthropic drive in the United States may have initially spooked some of their potential dinner guests.
The Chinese organizers have since blamed misunderstanding on the nature of the event for all the "Gates-Buffett shunned in China" headlines.
"We wouldn't be dreaming of asking people at an event in China to stand up and make any commitment -- it's just not our style," Buffett said.
Amid the media hoopla, however, some of China's super rich have stepped forward voluntarily.
Chen Guangbiao, a self-made millionaire and one of the few confirmed guests at the dinner, told Gates and Buffett that he would donate his entire fortune, an estimated $735 million, to charity upon his death -- jokingly calling his decision a "nice-to-meet-you" gift for the Americans.
"I don't want to become a slave to my wealth," he told CNN before the event.
Chen, 42, whose parents were poor farmers, now runs a booming renewable resources and recycling business in eastern Jiangsu province. He said he donated most of the $60 million profit his company made in 2009.
"Every dollar I made was with the help of others -- so I want to give it back to society and make my life more meaningful and valuable," he said.
China now boasts at least 189 billionaires (in U.S. dollars) -- second only to the United States, according to a just-released list by Hurun Report, a Shanghai-based publishing group that specializes in surveying the country's super rich.
China's Billionaires: Wealthy Chinese seem unwilling to open their purse strings for charitable causes.
In 2009, a government-sponsored honor roll listed 121 Chinese philanthropists who donated a combined $277 million, less than half of what a single American family -- financier Stanley Druckenmiller and his wife -- gave away in the same year in the United States.
Many Chinese tycoons prefer to keep a low profile. Some worry about their safety and that of their children, while others fear unwanted scrutiny from corrupt local officials.
Yet others blame the lack of a legal framework or favorable taxation policies for their reluctance to publicly pledge donations as Chen did.
"I'd rather focus on charity work through my company's own foundation, by setting up education projects in poor provinces and encouraging employees to volunteer their time and effort," Zhang Xin, another confirmed guest at the dinner, told CNN.
Zhang, 45, one of China's biggest property developers, sits on top of family holdings estimated to be worth more than $2 billion.
Despite the philosophical difference, Zhang tweeted that she and many other tycoons at the dinner professed their deep respect and admiration for Gates and Buffett as businessmen and philanthropists, lining up for photos and autographs.
Gates and Buffett say while they understand the concerns, they encourage their Chinese guests to take a great leap forward with long-term impact on their communities.
It may take some time, though, to see the concept of philanthropy take roots in the minds of China's super rich, since most of them have accumulated their fortunes only recently following the country's economic reforms.
The average age of someone on China's super rich lists is 51, about 15 years younger than their Western counterparts, says Rupert Hoogewerf, chief researcher at Hurun Report.
"Chinese entrepreneurs have made their money very quickly and they haven't really had time to think about how to spend it -- they are still in wealth-creation modes," he said.
Gates and Buffett acknowledge the challenge, but remain optimistic.
"Philanthropy is new, along with the new wealth here in China," Gates said. "So philanthropists meeting with each other -- and sharing ideas -- moves you up the learning curve a lot faster than if you are doing it in isolation."
All the controversies surrounding the Gates-Buffett dinner may have been a blessing in disguise, analysts say, prompting a healthy debate on a topic largely ignored by the public before and marking a watershed for philanthropy in China
"Gates and Buffett are the two biggest authorities on the subject. By coming to China to talk about it, they have sown the seeds in very fertile ground," Hoogewerf said.