Denmark's plan for an oil-free future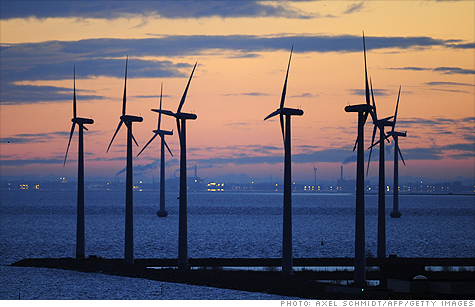 NEW YORK (CNNMoney.com) -- Danish scientists have outlined how their country could phase out its use of fossil fuels by 2050.
Denmark currently derives about 80% of its power from fossil fuels, using wind farms and other sources to fill the gap. A government-appointed committee has unveiled a plan on how the nation of 5.5 million people could throw off the oil yoke and convert completely to renewable power, mostly from wind and biomass.
"It is realistic to assume that the transition to an energy system independent of fossil fuels can be achieved by 2050," read a report by the Klimakommissionen, the Danish Commission on Climate Change Policy. "Most of the necessary technology is already known today, and the present energy system will, in any case, have been replaced by 2050."
As part of this plan, the Danish government would have to increase its tax on fossil fuel ten-fold by 2030 in order to dissuade people from its use.
Commission spokesman Lars Georg Jensen told CNNMoney.com, "It is now up to the government and parliament to decide whether they will follow the advice of the commission."
President Obama also has a plan to reduce American's dependence on oil, but nothing so ambitious as the Danes. The Danish plan is even more ambitious than the European Union's goal to reduce dependence on fossil fuels by 60% to 80% by 2050.
The Danish plan acknowledges that total rejection of oil and gas power would be difficult in the transportation sector, and nearly impossible overall. Denmark exports wind-generated power when it is plentiful but imports power during the doldrums. Often the power it imports is derived from fossil fuels.
American analysts said this plan might work in a European country the size of Massachusetts, but it would be tough, if not impossible, to implement in a nation as massive and populous as the U.S.
"The difference is that our consumption of energy is so much larger than it is in Denmark," said Chris Lafakis, an economist specializing in energy at Moody's Analytics, noting that the U.S. consumes about 20 million barrels of oil per day. "It's much more difficult for us to completely wean ourselves off of that," he said.
Lafakis added that unlike Denmark, the U.S. supplies about a quarter of its own oil needs.
"What we can do is increase the amount of renewable energy that we do consume."