Directors: A harsh new reality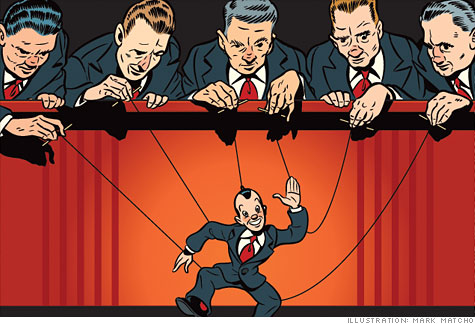 FORTUNE -- When Hewlett Packard announced CEO Mark Hurd's sudden resignation on Aug. 6, it was a miserable event for shareholders, employees, partners, and customers -- not to mention its own directors. Hurd, who had produced smashing financial results in five years as chief, was leaving, and the board didn't announce an immediate successor. CFO Cathie Lesjak would be interim CEO, but had "taken herself out of consideration" for the permanent job. When would a new CEO take over? Would that person be an outsider? HP's board couldn't say. The stock dropped 12% almost instantly on the news of Hurd's leaving and the CEO succession void and then drifted down further -- as the largest company in one of the world's fastest moving industries operated week after week without a CEO.
HP's misery is not a story of rotten luck. It's a story of a board failure that illustrates a larger trend -- a fundamental shift in power that's leaving a massive vacuum at many publicly traded companies. Yet most boards have not begun to confront the shift, which is altering the roles of boards and CEOs, changing both the factors that determine business success and the methods investors use to pick stocks.
The big shift
The financial crisis suddenly accelerated a long-simmering trend, broadening the board's role to include much more leadership, focused especially on selection, retention, and executive continuity. In today's fast-paced environment, leaving the wrong CEO in the job for even a little too long can grievously damage a company. Just observe the decline of Motorola (MOT, Fortune 500) before its board replaced Ed Zander with Greg Brown in 2008. No board wants to let company performance fall so far. The only choice, in a faster-changing world: more action-oriented boards.
What exactly does that mean? A board must be prepared at all times for CEO succession; the HP (HPQ, Fortune 500) board, glaringly, was not. Six years after the fact, the most dramatic example of doing succession right remains the McDonald's (MCD, Fortune 500) board, which faced the sudden deaths of two CEOs (James Cantalupo and Charlie Bell) within a year -- and in both cases named a successor immediately. That's preparedness.
A good board begins the succession process six months after a new CEO comes onboard, continually evaluating him and potential inside and outside talent and standing ready to make a change at any time. Yet nearly half of major company boards discuss CEO succession only once a year, according to Spencer Stuart's new survey of board practices.
What hasn't changed is that the CEO still manages the company. So having the right CEO and a top team is still critical to success and always will be. The board's new role doesn't imply a confrontational relationship between board and CEO -- in fact, the more trusting and open the relationship, the more successful the company will be. As always, the best CEOs want the best boards and the best relationship.
The board's new rules
The new rules for boards fall into two categories: specific practices that any board can adopt right now and, equally important, changes to the board's composition and culture that are the key to every company's success.
The No. 1 practice, simple yet tough, is spending enough high-quality time on the most important issues. They are CEO assessment, the succession process, strategy, development of leadership talent, and understanding the company's changing environment. Many boards now meet six times a year for two days each time -- just 12 days in all, or about 72 hours a year, devoted mostly to compliance and procedural matters. We estimate they spend only one-fourth of their time on the most crucial matters. But a few boards are spending around 60% of their time on what counts most, using the other 40% to handle less critical topics through committees, telephone meetings, and careful agenda management.
Directors today must possess a deep, continually updated view of potential successor CEOs and the company's rising stars. They must know all the CEO's direct reports, plus the long shots. That takes time. At a major company we know, each board meeting is accompanied by a meeting of the organization committee, where a division head and HR chief report for two full hours on talent and a spirited dialogue follows. Some boards are even using headhunting firms to brief them on potential outside successors -- though no change is planned anytime soon.
Another excellent practice for getting the best return on a board's time is adopting a 12-month agenda that specifies how much time each issue will get in the coming year's meetings. At EMC (EMC, Fortune 500), lead director David Strohm meets with all directors individually twice a year to learn what's on their minds and help shape the long-term agenda. In addition, at each meeting CEO Joe Tucci proposes the next meeting's agenda, which the directors then discuss in executive session -- the board minus the CEO.
Some smart boards require the CEO to brief them on the changing environment several times a year. EMC's Tucci does it at every meeting. Such briefings should be short and without slides; directors' biggest beef today is discussion-stifling, umpteen-slide affairs that replace real dialogue. Some CEOs also bring in outside experts to describe changes in the company's business environment, and one health care company board committee recently invited experts to present for three hours at each meeting for a year. A few boards, with the CEO's participation, even invite a consulting firm to present competitors' strategies plus their own view of the company's future, just to prompt deeper thinking.
Early warning signs
Against that background, today's best boards are judging the CEO's performance more closely and frequently than before. Specifically, they're watching for signals that they may have to act -- and not always because of bad performance: If the company is doing spectacularly well, the CEO could be stolen away, as James McNerney was poached from 3M by Boeing (BA, Fortune 500) in 2005, prompting 3M (MMM, Fortune 500) to grab George Buckley from Brunswick (BC). The board might have to name a successor on short notice.
More often the board is watching for trouble. Is financial performance stalling or worsening? Are investors and the CEO growing hostile? If so, the CEO may be refusing to confront reality, always a bad sign. Is turnover increasing among executives just below the CEO? Good directors are following up to find out why. Just because there is trouble, however, does not mean it's time to fire the CEO. In a trusting and transparent relationship, the board serves both the CEO and company well by giving constructive, specific feedback. We know of two companies where a recently appointed CEO was missing earnings targets, and experienced directors successfully coached him. Judging when the CEO can be saved is a key skill, and we believe most boards should include at least two incumbent CEOs from other companies, because they understand the pressures of the job and causes of poor performance.
Board culture: The key
Adopting such crucial practices will be a big change for many boards. Yet even more difficult is confronting the new reality that creating business value is increasingly the job of a human social system -- the board -- in which no one holds individual formal power. That's very different from the hierarchy of corporate management. Now, the board's culture -- its unspoken norms of behavior -- are more critical than ever to a company's success. Are discussions relevant, rigorous, and penetrating? Do a few dominant directors commandeer the meeting? Are there factions? Does superficial knowledge go unchallenged? Is the chemistry collaborative? Is the board equipped to handle corporate life-threatening issues?
Particularly important is the culture of the executive session. Just a decade ago, most boards didn't hold executive sessions. In the post-Enron reforms, the New York Stock Exchange and Nasdaq made such meetings part of their listing requirements. The executive session -- where directors air their real feelings -- must be utterly frank, or trouble is inevitable. Don't place the executive session last on the agenda, as many companies do; everyone is trying to make a plane. It's the most important part of the board meeting. Do it first, or even the night before.
Fixing a bad board culture is more art than science, but in the near term, chairmen and lead directors can model the right behavior until others get comfortable with it (or decide they can't, and leave). The board's leaders have a duty to make its culture constructive. They should change its mix as the company's environment changes.
Boards as corporate leaders as well as governance authorities, as principal value creators rather than value stewards -- those aren't just procedural changes. They are changes that require new mindsets in every top executive. Boards can build companies. They can also destroy them. Now, the buck stops here.
--Ram Charan is an adviser on corporate governance and CEO succession and a director of three companies. He is the author of Boards That Deliver and co-author with Bill Conaty of The Talent Masters, due in November.