Should CEO be a team job?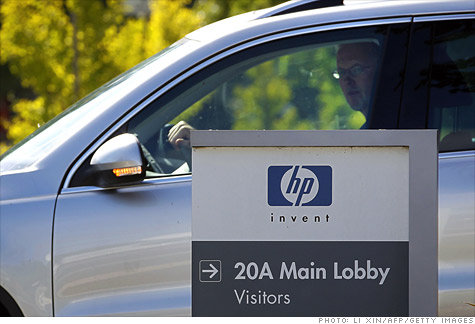 FORTUNE -- Cathie Lesjak, the interim CEO at HP, has a lot to manage. Last week, the battle with Dell for the acquisition of 3PAR, a battle HP ultimately won, dominated the US business news headlines. Today, HP announced the acquisition of yet another company, ArcSight. The lack of a permanent boss, in other words, hasn't slowed the company's growth plans at all.
Meanwhile the firm is still in the spotlight as it tries to enforce agreements former CEO Mark Hurd signed, but apparently did not intend to keep, perhaps due, as the New York Times pointed out, to their incompleteness. These include the stipulation that, within 12 months of leaving, Hurd would not engage in conflicting business activities and would notify HP prior to accepting a job with a competitor so his former company could assess whether the job violated its arrangements with Hurd.
The issue is serious enough to threaten HP's relationship with Oracle. Though they are competitors, they also have a twenty-year long strategic partnership and over 100,000 joint customers. Larry Ellison, CEO of Oracle, has called HP's suit to enforce the agreements "vindictive... making it virtually impossible for Oracle and HP to continue to cooperate and work together."
It's a lot for a company with an interim CEO to juggle. But at HP (HPQ, Fortune 500), apparently -- so far, so good.
The rap on interim CEOs is that they send a confusing signal about the company's direction, especially when their tenure drags on. And, fundamentally, not having a CEO replacement does represent a failure of the board. Many boards can't seem to wrest control over the CEO succession planning process from domineering CEOs and in sudden departures are forced to install interim CEOs, who operate in very difficult circumstances.
Sara Lee (SLE, Fortune 500) has an interim now. Borders Group (BGP) ran with one for six months, earlier this year. H&R Block had one in 2007 and 2008, and Sears has had one for two and half years.
The interim tag -- whether on a head coach or a CEO -- is usually viewed by that person's underlings something like a big "this space available" sign. But are interim CEOs really such a bad thing?
Take Ed Whitacre, who became interim CEO of GM in December and then was named CEO in January. Credited with "decisiveness and emphasis on speed... just what hidebound GM needed," according to car czar Steven Rattner, Whitacre stepped down in August, handing the reins to another GM board member, Dan Akerson, who will bring a new skill set to the table, possibly one better suited to the moment in which GM now finds itself.
Although Whitacre left several months before he promised to, his tenure exemplifies a hard-to-avoid reality -- the skill set of a single individual at the top can be of critical but limited use to a huge, complex enterprise like GM.
Some CEOs are one-dimensional, with great skills in some departments but not others. Take Bob Nardelli's time at Home Depot (HD, Fortune 500). He brought new management professionalism, but his "my way only" approach wasn't sustainable for the company. Mark Hurd, at HP, was arguably of the same ilk. Chuck Prince's vision was crucial for Citigroup (C, Fortune 500) at the beginning of his tenure but probably not for the duration he served. More generally, this may explain why so many excellently trained GE (GE, Fortune 500) executives have less-than-stellar runs as CEOs at other firms. What they bring is not what the companies need at that time -- or for the full duration of their stay.
So there may be a silver lining to the inability of so many boards to create a coherent CEO succession plan, namely an opportunity to re-think the CEO operating model itself.
With the complexity of organizations today and the required sensitivity to governance and performance, perhaps it's time to rethink the logic of the superhero, supersized CEO. Perhaps boards, in CEO succession, should be paying more attention to assuring a range of skills in the C-suite, each useful at different moments in the company's strategy.
CFO positions often have been rotational assignments within firms; why not the CEO? Maybe the C-suite would work together better together knowing that one of their number might be the next team leader, and it would force the board to ensure sufficient skills below the C-suite for adequate back-up to the executive's functions.
There could be one other, pivotal benefit to this model -- helping to solve the CEO pay issue that has plagued US firms for 40 years.
The CEO pay problem is well documented, but two examples for neophytes: Nabor Industries (NBR) CEO Eugene Isenberg makes more than double the COO and many times the other most highly compensated individuals in his company, including, on a full-year basis, more than seven times one of the reported top five; Oracle's (ORCL, Fortune 500) Larry Ellison makes more than double most of the other top five officers and 14 times the CFO.
A rotational CEO position would put boards in control of the CEO spot, rather than the other way around. Instead of paying huge sums to -- and relying exclusively on -- a single individual, boards would groom multiple individuals of diverse skills useful for finite durations, with paychecks to match. Investors would benefit knowing the company had several qualified and/or tested CEOs from which to choose. Perhaps, by failing to engage in adequate succession planning and to rein in pay, boards have, inadvertently, pointed us to a better, more cost-effective model at the top.
--Eleanor Bloxham is CEO of The Value Alliance and Corporate Governance Alliance, a board advisory firm.