Jobs picture: Stagnant, stubborn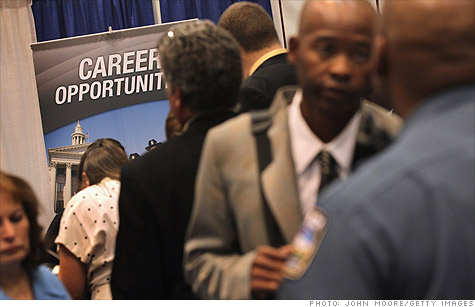 NEW YORK (CNNMoney.com) -- Looking ahead to Friday's government jobs report, the outlook doesn't look rosy. Two separate reports issued Wednesday paint a grim picture of the job market.
Private sector employers cut 39,000 jobs in September -- a turn toward the negative after the private sector added jobs for seven straight months before, according to a report by payroll processing firm Automatic Data Processing.
Those cuts surprised economists polled by Briefing.com who had expected the report to show 18,000 jobs added during the month.
"There simply is no momentum in employment," the ADP report said.
A separate report showed employers planned more job cuts in September, up from a 10-year low reported in August.
Employers said they would cut 37,151 jobs in September, a 7% increase from the 34,768 job cuts reported in August, according to outplacement firm Challenger, Gray & Christmas, Inc.
ADP and Challenger's reports use different metrics, with ADP measuring only private sector job growth and Challenger compiling planned job cuts in the government and non-profit sectors as well as private industry.
The two reports set the stage for the government's closely watched jobs number due Friday, which economists also expect to bring gloomy news.
Consensus estimates from Briefing.com forecast the report to show the economy added no jobs in September, and that the unemployment rate ticked up to 9.7% from 9.6% in August.
Even though job statistics are often a volatile measure, the latest data is worrying and make a bigger case for a 10% unemployment rate, Paul Ashworth, senior U.S. economist with Capital Economics, said in a research note.
According to the Challenger report, September's planned cuts were most severe in the pharmaceutical and government and non-profit sectors.
In the private sector, construction and manufacturing accounted for the bulk of the job cuts, whereas the services industry actually hired more workers, ADP said.