Temp hiring is back. Is a jobs recovery next?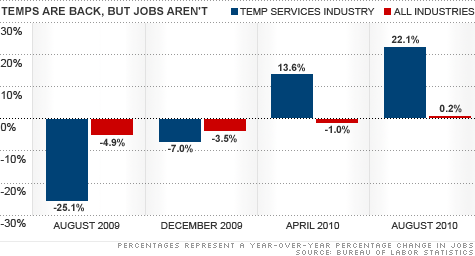 NEW YORK (CNNMoney.com) -- When temporary hiring picks up, full-time jobs are soon to follow. At least, that's the way it's supposed to work.
But so far, that hasn't happened this time.
Jobs in the temporary services industry are up 22.1% year-over-year, according to the Labor Department. But the overall job market expanded only 0.2% during the same period. And the outlook is still pretty grim.
"By this stage, we would have expected to see businesses add on larger numbers of permanent workers," said Richard Wahlquist, president and CEO of the American Staffing Association.
The problem is that businesses are still too scared to hire. Mixed economic data, sweeping new financial and health care reforms and uncertainty about the expiring Bush tax cuts, have all left employers feeling jittery about their future business prospects, Wahlquist said.
Temps are considered a leading indicator because they're usually the first to go during a recession, and the first to come back in a recovery, said Jonas Prising, president of Manpower Inc., a global temporary hiring firm. As a recovery picks up, employers often bring on temps rather than commit to full-time hires.
In previous recessions, the overall job market rebound followed that of the temp industry by about six to 12 months, he said.
But it's been 12 months since the temp industry started to pick up and there are still few signs of an overall jobs recovery.
About 80% of employers surveyed by Manpower last month, indicated they would not be increasing their hiring in the fourth quarter. And on Friday, the government is expected to report that no jobs were added to the economy in September.
Dead-end temp jobs
Workers are starting to get used to the idea that temporary jobs are no longer the road to full-time employment that they once were.
"I went along for five months thinking I was going to be hired at some point, but wasn't," said Elizabeth Fraizer of Casa Grande, Ariz., who's been laid off from two temp jobs in the last two years.

Fraizer took both jobs thinking they would transition into permanent positions, but to her surprise, they didn't end that way.
Her stint as a receptionist at First American Title ended after five months when the company said it was cutting back and couldn't afford her anymore, she said.
The same thing happened after working about a month at a commercial construction company. Now she's looking for a job but won't go the temp route again.
"I don't really know if the staffing agencies are trying to entice people by promising false hope -- or was the company misleading the staffing agency?" she said. "Companies are really hesitant to put anybody on their payrolls now; they just don't want to commit."
The question is whether employers will come around and start hiring again soon, or move toward a permanent culture of a more flexible workforce.
When will the jobs be back?
For now, the conversion from temp to permanent is just not happening. But experts disagree on whether the shift in favor of temp workers is a long-term change.
Both the Philadelphia and Atlanta Federal Reserve banks said last month that companies are looking to rely more on contract workers rather than hiring permanent employees in the near-term.

Employers are still so uncertain about the economy going forward, it makes sense that some will want to keep their workforce partially flexible, Prising said.

"The recession has been so bad and employers had to cut so deep, that they will want to have a much higher proportion of their workforce temporary going forward," Prising said.
But there's still something to be said for hiring permanent workers, according to T.C. Robillard, a senior research analyst for Signal Hill Capital who covers large staffing firms. He thinks employers will realize that as soon as the economy picks up.
"Permanent employees that know your business and fit well are one of your assets," he said. "I don't think we're going to redefine the employee mix even once companies feel more confident that the recovery is on solid ground."
Even though staffing firms are expecting demand for temps to continue through the year, they're not necessarily optimistic either. Most are forecasting job growth -- both temporary and permanent -- will remain sluggish this year, and possibly longer.
"It's the toughest employment market in most our lifetimes, and hopefully it won't get any worse," Wahlquist said. "But it's not likely to get any better in the coming months."