Gas boom catches community off guard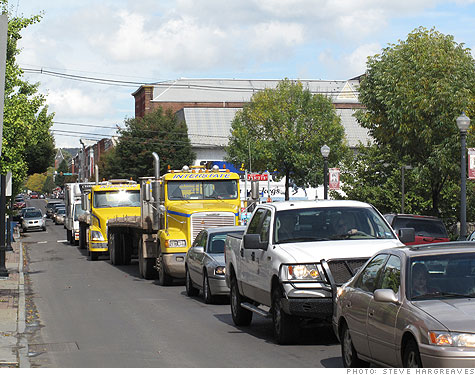 TOWANDA, Pa. (CNNMoney.com) -- Downtown Towanda is literally choking in traffic.
The town, some 60 miles northwest of Scranton, is ground zero in Pennsylvania's development of natural gas found in shale rock, a boom that's spreading to many parts of the nation.
But this shale gas, too costly to develop just a few years ago, requires vast amounts of water to tap -- water that must be trucked in.
It's estimated that each well requires 1,300 truck trips. Statewide, 2,000 such wells have been drilled in the last five years. Another 3,000 are slated.
In Towanda, that means it's nearly impossible to cross the once-sleepy main street without waiting on a parade of tractor trailers.
"You used to be able to go out in the middle of the road and take a nap," said Joe Snell, a local welding supply salesman. "Not anymore."
The wells also require thousands of workers. Some are hired locally, but many come in from out of state.
Managing a boom. The boom is providing a serious jolt to the local economy, but it's also causing serious problems.
Traffic is described as out of hand and there are concerns environmental regulations are not up to snuff. And with the big influx of workers to the area, government services are strained.
"It's stimulated the economy," said Mike Holt, owner of the Red Rose, a downtown diner. "But it seems like the concerns of the community have been ignored in the process."
Some lawmakers in the region have been fighting hard for a special tax on natural gas to help alleviate some of the problems. Such severance taxes are common in other energy-producing regions.
Mark Smith, a commissioner in Bradford County, where Towanda sits, said calls to the local 911 line have risen 30% in the last year -- mostly traffic related issues with the out-of towners.
The transplants also use the local courts, so much so that an extra janitor had to be hired to keep the bathrooms clean. Ten percent of the jail population is now non-local.
And while hundreds of millions of dollars are flowing into the county, two local economic development officials struggle to guide that cash and help local businesses get a slice of the money.
"The services we provide are strained," said Smith. "I don't think Pennsylvania was prepared for this, environmentally or financially."
The state House of Representatives recently passed a severance tax, but it faces opposition in the other chamber and from locals in Bradford County who fear such a tax will crimp gas development.
"The size and the scope of how fast this is occurring concerns me," said Doug McLinko, another Bradford country commissioner. "But I don't want to hurt this through taxation and regulation. I see the good it's doing for families."
McLinko says the school districts and local governments are benefiting from the increases in property and income taxes the boom is bringing.
As for other concerns, like skyrocketing rents, he doesn't want the government to get involved.
"Let the free market work," he said. "If there's demand, there will be supply. I'm not going to muck it up with people's tax dollars."
Protecting the water. The other major concern among locals is the water.
To extract the gas, thousands of gallons of water, sand and chemicals are injected into the ground at high pressure -- a process known as fracking.
As this boom has taken off, many people have found their well water contaminated.
State environmental officials stress that the problems are the result of fracking spills at the surface, or in improperly cased wells. It's not the actual fracking process itself, they say, which takes place thousands of feet underground.
The state recently tightened its requirements for well casings and the treatment of frack fluids and other contiminated water that come out of the well, as well as how much water gas companies can take from rivers.
But there's still a sense that the state was late to the game, and didn't go far enough. That's true not just of Pennsylvania, but most states where this is occurring, which is why many are calling for federal oversight.
"The states are absolutely unprepared to deal with this kind of onslaught," said Dave Hamilton, director of global warming and energy projects at the Sierra Club. "There needs to be some kind of backstop."
Many outside analysts say the development of shale gas can withstand additional regulations, although the industry say more regulation would slow development and cost jobs.
To that, many say tough.
Kate Sinding, an attorney at the Natural Resources Defense Council, said Pennsylvania should require companies to undertake more stringent precautions.
"These are not cheap," she said. "But they should pay for this stuff."