A $6 trillion investing opportunity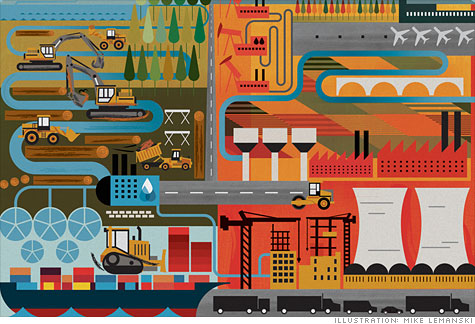 FORTUNE -- Emerging-markets economies seem to have it all these days. Their lands are stocked with natural resources. Their national finances are strong. And a rising middle class is spurring breakneck growth in their businesses.
Yet China, India, Brazil, and other developing countries share a glaring problem: inadequate infrastructure.
For example, 400 million people in India don't have electricity, according to the International Energy Agency. Brazil is one of the world's biggest commodities producers yet has one of the weakest port systems. Meanwhile millions are moving to cities in countries like China, increasing the need for power and transportation.
Emerging-markets governments are committing $6.3 trillion to address the infrastructure problem, according to a new report by Bank of America Merrill Lynch (BAML). The bulk of it is going to water systems, energy, and transportation. Kate Moore, one of the authors, says governments will increasingly direct the money to public-private partnerships. "They have plans to have private companies take a larger role," she says.
Ride the infrastructure wave
For investors the infrastructure boom offers a rich opportunity: Companies that build roads, transmit power, and operate utilities will get a shot in the arm from government spending, potentially boosting their earnings and shares. With that in mind, we consulted top infrastructure investors, who recommended a selection of stocks (all available in the U.S. as ADRs) poised to benefit from the theme. All emphasized the importance of finding companies that not only have a competitive edge and a reasonable valuation but also enjoy positive relationships with local governments. "The key is to think about where the profit lies in the chain," says Richard Titherington, head of J.P. Morgan Asset Management's emerging-market equities group.
Brazil
The country with the most buzz right now is Brazil, where commodities producers desperately need the means to move natural resources. In March the Brazilian government announced plans to spend more than $500 billion on infrastructure over the next four years -- half of which is expected to go to energy spending. A prime beneficiary will likely be Brazil's state-owned oil company, Petrobras (PZE). That's good news for Argentina's Tenaris, (TS) which makes oil and gas pipelines for Petrobras and others. Tenaris's sales took a hit this year because of decreased drilling, sending its stock down 7%. But analysts expect Tenaris to increase earnings 18% annually over the next five years, and Titherington thinks the stock will bounce back. "They have a competitive advantage," he says. "They don't just make ordinary steel pipes. They make high-quality, highly specified steel pipes."
China
Some of the world's biggest multinationals are competing for these projects. But few have the know-how to excel in developing countries, says Nicholas Heymann, head of Global Industrial Infrastructure Research at Sterne Agee. Heymann thinks German industrial giant Siemens (SI) is smartly playing the trend. He praises the company for its multi-tiered pricing strategy in China, where it sells both top-of-the-line products and low-end manufacturing equipment to factories. By contrast, competitors tend to focus on one end of the pricing spectrum. "That's why Siemens has broken away from the pack," he says. Siemens' orders in China grew 35% last quarter, and Heymann expects it to derive 40% of its revenue from emerging markets this year. BAML projects that China will spend about $600 billion on expanding its power grid over the next decade, generating copious work for Siemens.
Mexico
Infrastructure also needs operators -- companies that run toll roads and utilities. Though slower-growing, such businesses offer relative stability. A promising example: Mexican airport operator Grupo Aeroportuario del Sureste (ASR), which operates airports in southeastern Mexico and has a 3.9% dividend yield. Its stock is down 7% so far this year -- dropping its trailing price/ earnings ratio to 17, compared with its five-year average of 25 -- partly because of concerns that security and health problems in Mexico could cripple tourism. Such fears are overblown, says Rusty Johnson, manager of the Harding Loevner Emerging Markets fund. The company derives most of its revenue from its huge Cancún airport, where international traffic increased 18% in August. Johnson says the government -- which determines passenger fees -- treats the airport favorably, so future returns are predictable. "Plus," he points out, "the barrier to entry is relatively high."
Many key infrastructure companies aren't publicly traded, but they are accessible through the debt markets. Of course, it's not easy to snap up the bonds of, say, Panamanian toll road operators, which is why you're better off buying into an emerging-markets bond fund like PIMCO Emerging Markets Bond (PEMDX) or DoubleLine Emerging Markets Income (DBLEX). The former has averaged 14% returns over the past decade, and the latter is a new entry managed by Luz Padilla, who previously ran the TCW Emerging Markets Income Fund, the top performer in the category over the past five years. Both funds have boosted their exposure to corporate bonds, which offer better yields than sovereign debt right now. Like infrastructure stocks, the bonds' issuers will benefit from the wave of government spending.