Jobs take a hit in September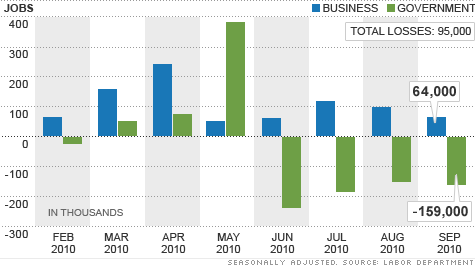 NEW YORK (CNNMoney.com) -- The job market suffered another blow last month, as business hiring dwindled and the government continued to shed workers.
Overall, the economy lost a total of 95,000 jobs in September, the Labor Department reported Friday, far worse than expected and down from the previous month, when employers shed 57,000 jobs.
Government job losses, especially temporary census positions, have dragged down the overall number for several months. But in September, sweeping cuts by cash-strapped state and local governments accounted for more than half of the public sector losses.
The government shed a total of 159,000 workers in September, of which 77,000 were census workers. But there was also a surprising jump in job cuts at the state and local level, with a total of 83,000 jobs lost -- the worst decline since 1982.
Of those, 58,000 cuts were teachers and other education workers, as school started back up in September amid budget crises in several states.
"Normally teachers are brought back on in August and September, but because of budget pressures, fewer teachers were hired this year," said Mark Vitner, senior economist with Wells Fargo.
The overall payroll numbers for the year have been distorted by the huge spike in hiring caused by the addition of 564,000 census workers in the spring, and the end of those temporary jobs since then.
But when census jobs are stripped out of the total, September was the first month of 2010 that saw a decline in jobs.
Economists took some comfort in the report's private payrolls number, which showed businesses are hiring, albeit at a snail's pace.
Private businesses added 64,000 workers in September. It marked the ninth straight month the private sector added jobs, but was a slowdown from the previous two months.
"We're not losing jobs, but we're not gaining at a high enough rate to make a dent in the employment problem either," said Stephen Bronars, senior economist with Welch Consulting.
Economists say they need to see a gain of about 150,000 jobs per month, just to keep pace with population growth.
The government also revised its figures from both July and August lower, showing that 15,000 more jobs were lost over the summer than previously reported.
But the downward revisions came from increased estimates for government job losses. Business payrolls were revised higher by 36,000 jobs.
Overall, Friday's jobs report disappointed economists, who were expecting no change to the payrolls number.
Workers still suffering
"The economy is no better, no worse," Heidi Shierholz, an economist with the Economic Policy Institute said in a research note. "America's workers are still in hell."

Adding to the discouraging news, a record-high 9.5 million people are involuntarily working part-time jobs. This category includes workers who are stuck in part-time jobs because either their hours have been cut or they can't find full-time work.
A separate measure of so-called discouraged workers, or people who are no longer included in the unemployment rate because they gave up looking for a job, rose to 1.2 million, a 72% increase over a year earlier.
"Businesses are not willing to hire all that many workers," Vitner said. "And people are pretty smart. If they don't see job opportunities, they're not going to spend a whole lot of time looking for work."
The so-called underemployment rate, which counts both discouraged people without jobs and those working part time who want a full-time position, jumped to 17.1% from 16.7% in August. That means more than one in six adults are without the job they want or need.
The unemployment rate, which only measures people who are actively searching for work, was unchanged at 9.6%. Economists had forecast a slight increase to 9.7%.
A mixed picture
The construction sector fared the worst, losing 21,000 jobs in September. Manufacturing was next in line with 6,000 job cuts -- still far better than the 28,000 jobs lost in the sector in August.
Among the top performing industries, health care was the best, with 32,000 jobs added. Temporary jobs also spiked, as companies were still too nervous to commit to full-time workers, and hired temps instead .
"We continue to see companies utilizing temps, and it's not a great surprise given there's still relative uncertainty in the market," said Cathy Farley, managing director in Accenture's management consulting practice. "It's a conservative way to get back into hiring."
Temp hiring is often seen as a good sign during an economic recovery, but many economists say it should have transitioned into permanent jobs by now.
Breaking out the numbers by demographics, women are faring much better than men, with an 8% unemployment rate, compared to 9.8% for men. Both numbers were unchanged last month.
Unemployment among African Americans fell slightly to 16.1%, but was still the highest among racial groups.