Where entrepreneurs need nerves of steel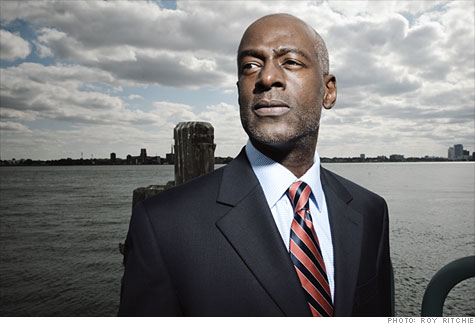 FORTUNE -- For Glenn Oliver , it took a certain amount of faith in the unseen to launch a business in Detroit, the poorest major city in America. Oliver is a lawyer, not a businessman, whose experience included clerking for a Michigan Supreme Court justice and approving utility contracts. But an entrepreneurial streak that runs in his family emerged when Oliver began to ponder the potential of a resource the Great Lake State has in abundance: water. Rising demand has spurred a global boom in water-supply projects. So why not create a marketplace for all the new business, where contractors and suppliers can bid on projects around the world? The result of Oliver's inspiration is a website he spent nine months building, H2bid.com, which charges $450 a year for a membership and bills itself as the "largest clearinghouse" for water contracts. Oliver's venture isn't profitable yet, but he's confident that his startup will help the battered city. "Entrepreneurship," he notes, "is the largest creator of wealth."
Detroit needs a lot more of both. Oliver is one of the exceptions to a dire situation. While the Great Recession devastated many sectors, it has been particularly disastrous for black-owned companies, which account for 7% of nonfarm businesses in the U.S. That's one reason the official unemployment rate in Detroit, America's most populous majority-black city, is 25.5%, although authorities believe the actual rate may be twice that.
Scores of businesses have shuttered. Even the steel-supply company launched in 1980 by Detroit's current mayor, Dave Bing, is struggling financially. The credit crunch and the historical wealth gap between blacks and whites have combined to choke off the resources needed to launch new businesses. "It's probably as tough now for black entrepreneurs as at any time in the history of this country," says Steven Rogers, a professor at Northwestern University's Kellogg School of Management.
It wasn't always that way. Detroit has long been a hub of black entrepreneurship, especially after Southern blacks began migrating en masse to participate in the 1920s auto-industry boom. In the 1960s and '70s, many blacks took the skills they'd gained integrating white-owned firms to build their own businesses: hotels, auto dealerships, construction companies, and architectural firms. In 1973, when Black Enterprise magazine published its first annual listing of the nation's 100 largest black-owned companies, No. 1 was Detroit-launched Motown Industries, with $40 million in revenue. (Today it's St. Louis-based World Wide Technology, with $2.2 billion in revenue.)
In the current business climate, that entrepreneurial attitude is one of the few things that Detroit's prospective startups have going for them. But another is a strong sense of family and school ties that can be tapped for potential investors and customers.
Those proved the edge for Michelle Wilson Brown when she launched Red Velvet Cupcakes in suburban Detroit. The University of Detroit Mercy-trained lawyer had been baking cupcakes for relatives' parties for years, hoping it would someday become a business. When she decided to take the plunge in 2008, banks were so stringent with loans that she didn't bother to apply. Instead, the 36-year-old mother of four children raised thousands of dollars from family and friends. Then last summer, a sorority sister, Yolanda Baston, joined the business and made a $50,000 investment.
Now Wilson Brown is scouting a location for Red Velvet Cupcakes' first retail shop, while carting baked goods in her minivan to customers at companies like Chrysler and Blue Cross Blue Shield. The cost -- about $25 for a dozen cupcakes -- is lower than for some premium cupcake shops, which sell a dozen for about $36. "Cupcakes shops are thriving even in a weak economy," she says, adding, "People are willing to treat themselves to something small." Wilson Brown sees airports as another ripe opportunity.
In Detroit, as in other places, the entrepreneurial spirit tends to stick with families, even after the next generation has gone off and earned advanced degrees. Wilson Brown's father started his own construction firm in Detroit. "Maybe seeing my dad launch his own business subliminally taught me you don't have to work for someone else to be successful," she says. "There's such a difference. I do what I love. I work all night. At a law firm, when I was doing that, it wasn't the same passion and fire I feel now."
Glenn Oliver, 48, had a similar experience, watching his grandfather run an appliance repair and installation business. "He made more money than anyone I knew at the time. He paid for his car in cash," recalls Oliver. "So my exposure goes way back. That's in the DNA of most entrepreneurs."
For offspring who inherit a business, the tradition can be more complicated, especially when it means taking the family business in a different direction. Mark Douglas had barely settled into his job as president of Avis Ford in suburban Southfield when the auto business went into its latest crisis. His father, Walter, had started the dealership two decades earlier. Douglas, 43, an engineer by training with a University of Michigan MBA, knew he had to move quickly to save the business. "The biggest fear was people not being accepting of change. I realized we couldn't continue down the same road that we'd been on."
Douglas had to scale back what had been a proudly growing business, even while moving more aggressively to help customers afford cars. He reduced employees from about 140 to 106 and began running ads more frequently in black newspapers like the Michigan Chronicle to better target Avis's (CAR, Fortune 500) core consumers, many of whom have low credit scores. He hired a "credit busters" team to specialize in subprime loans, which in the auto business haven't suffered the same failure rate as in the housing industry. "That's given us a niche," he says, producing sales of about 60 new and used cars via subprime loans each month. As a result, Avis Ford remains one of the top-selling Ford dealerships in the U.S.
One advantage for black entrepreneurs, or any minority startup, is an understanding of America's diverse marketplace. Donald Coleman, 58, the CEO of GlobalHue, a fast-rising ad agency based in Southfield, saw both racism and opportunity in the state of the ad industry. The son of a United Airlines skycap, Coleman played football for the University of Michigan and later the New Orleans Saints before injuries prompted him to quit football and join an ad-agency office in Detroit. He says he endured more than a few bigoted remarks before launching his own business from a rented 500-square-foot space in a friend's suburban office, at first dealing mainly in promotional posters for car and beer companies. But then came a contract with Ford (F, Fortune 500) to handle print and television work, and later deals with Domino's Pizza (DPZ) and Chrysler.
Coleman bought other ad firms targeting black, Latino, and Asian- American markets. The strategy has proved a success: A client like Chrysler, for example, can get advice on how to market its Jeep Grand Cherokee to black, Latino, and Asian consumers, all from one source. That approach has proved especially attractive at a time when clients are reducing their marketing budgets.
Coleman offers this advice to prospective entrepreneurs: "You've got to find a way to find capital, find a business that has a differentiation from competitors, and find a way to get your operation directly in front of a decision-making client." He adds: "Whatever the obstacle, don't let it stop you. You may not be able to do it in a straight line."
As his counterparts would attest, the path for new businesses has many curves and not many road maps.