Nissan's ultimate range anxiety cure: another car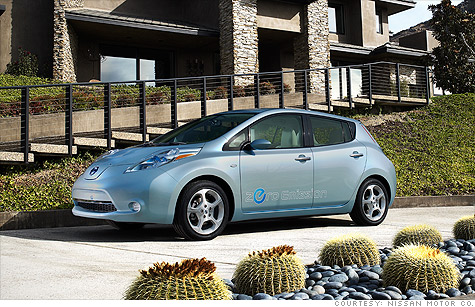 NEW YORK (CNNMoney.com) -- The Nissan Leaf electric car can go up to 100 miles on a charge, but that may not always be enough so, for Leaf owners outside the United States who are planning a trip longer than that, Nissan is considering a solution: gasoline-powered loaner cars.
The loaner car plan would allay "range anxiety" concerns among electric car buyers. That's the fear of getting stuck somewhere when an electric car's batteries run out.
Because it is common for families in the U.S. to have more than one car, the Leaf would likely be a family's second or third car, obviating the need for Nissan's loaner program in the United States, Nissan's spokesman Steve Oldham said.
While the Leaf would travel up to 100 miles in stop-and-go city driving, its range could be considerably less when driven on the highway. Using accessories like window defrosters, air conditioning or heating, can also reduce the car's driving range.
General Motors, which claims to have invented the term "range anxiety" and has applied to trademark it, touts its Chevrolet Volt as being immune to the problem.
The Volt can drive on electric power alone for about 40 miles. When driven further, a gasoline engine comes on to provide power for 300 miles or more before the car has to be either recharged or the gas tank refilled.
The Volt will go on sale late this year, at about the same time as the Leaf. GM will sell initially the Volt in more limited numbers than the Leaf. Although the Volt will cost considerably more than the Leaf to purchase, consumers will be able to lease either car for about the same rate of $350 a month.
"It validates our decision to build an electric vehicle with extended range," GM spokesman Nick Richards said of Nissan considering offering loaner cars.