WePay is the anti-PayPal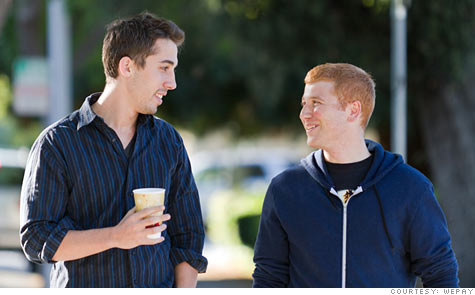 (CNNMoney.com) -- Look out, PayPal. Two young entrepreneurs are gunning for you.
Inside a Palo Alto, Calif., building that once housed PayPal headquarters, the upstarts -- Rich Aberman, 25, and Bill Clerico, 24 -- are growing a new online payments company. Their investors include PayPal cofounder Max Levchin. Their mission? Poaching part of PayPal's business.
Aberman and Clerico are the founders of WePay, an online service that lets groups of people collect money for shared expenses, like renting a ski house or giving a class gift to a teacher. They launched the company in 2008 and, in the past two years, landed $9 million in seed capital from Silicon Valley A-listers including YouTube founder Steve Chen, former Intuit (INTU) CTO Eric Dunn, and Ron Conway, who backed Twitter, Facebook and Google.
Angel investor Max Levchin believes that WePay's exclusive focus on group expenses will win a chunk of the lucrative online payments market -- the market that was born in 1998 when Levchin launched PayPal. EBay (EBAY, Fortune 500) acquired it four years later for $1.5 billion.
"These guys showed up and said, 'Hey, this is what PayPal doesn't do well.' And I said, 'Yeah, I know,'" Levchin says. "The rest was establishing that these guys could do it better."
The idea for WePay came to Aberman two years ago, when he was struggling to raise funds for his brother's bachelor party. He had to collect $4,200 from 14 guys to cover the rent at a Florida beach house, bottle service at a club, and enough burgers, beer and chips to feed a small army. Rounding up the money was a hassle. It took several weeks of nagging people scattered across the country, collecting checks and cash piecemeal as they rolled in. There must be a better way to do this, he thought.
In April, WePay -- now a 13-person company -- rolled out its online payment service. Now 500 new user groups join WePay each week, Aberman says. The website's weekly transaction totals more than tripled between July and August, when it hit $1 million.
The company gets a commission from each payment: either a flat 50 cents or 3.5% of the total, depending on whether users are paying with their credit cards or bank accounts. Users gather those payments in shareable, purpose-specific accounts, rather than personal ones. The system lets group leaders keep track of who has paid, nag delinquent friends with e-mails, and withdraw collections.
But WePay faces one giant, looming problem: PayPal could easily crash the party. With 85 million active accounts and more than $71 billion passing through its system annually, PayPal rules the online payment space. If the behemoth improved its existing system for multi-party transactions, WePay would be in serious trouble.
PayPal already allows users to request money from groups of friends. Its online services, however, are designed primarily for e-commerce, which makes up the bulk of PayPal's transactions.
PayPal has no current plans to beef up its group payment system, says company spokesman Anuj Nayar. And WePay investors say they aren't concerned about the behemoth changing its mind.
"As much as I love and respect PayPal, I'm not too worried, because they're not moving as fast as startups," says Dave McClure, a former PayPal employee and a founding partner at 500Startups, a venture fund that backs WePay.
Aberman says good customer service is WePay's best defense. WePay's phone number is posted prominently on the company's website, and customers are encouraged to call in suggestions.
"I want people who are sitting literally next to the engineers, so there's direct communication between people building the product and the people talking to customers," he says. Such conversations have already led WePay to add features for accepting donations and selling tickets online.
But in the volatile world of startup businesses, the possibility of getting crushed by a giant is never out of the picture. "In the back of our minds, we are pretty suspicious and nervous that anyone will move into our space," Aberman admits.
Staking out that space wasn't easy. Clerico quit his investment banking job to work full-time on WePay; Aberman deferred a scholarship to law school at New York University.
Their gumption impressed Paul Graham, a partner at Y Combinator, the Silicon Valley venture that gave WePay its first big break: $17,000 in seed money. "These guys had already jumped and they were down the cliff and they said, 'Will you please give us a parachute?'" Graham says. "It seemed like they had staying power."
Now that WePay has launched, its fanbase is growing fast. Take Michael Polark, a Boston financial analyst who used the service in May to collect $2,200 from 40 friends who were renting a trolley to ride to a Boston College commencement party. When kinks in the system led several people to accidentally overpay, Polark needed to transfer money back to them. A call to WePay's customer service department quickly sorted out the problem. Plus, the company gave him $20 for the inconvenience.
"I've been recommending it to all my friends," Polark says.
That's good news for Aberman, who hopes word-of-mouth enthusiasm from customers will help grow his company.
"We're trying to be the anti-PayPal," he says. "We don't want to bite the hand that fed us, but there is a big opportunity on the table to satisfy consumers' needs."